2,500 Assyrians in Detroit Rally for Assyrians in Iraq
Posted 2014-08-11 04:07 GMT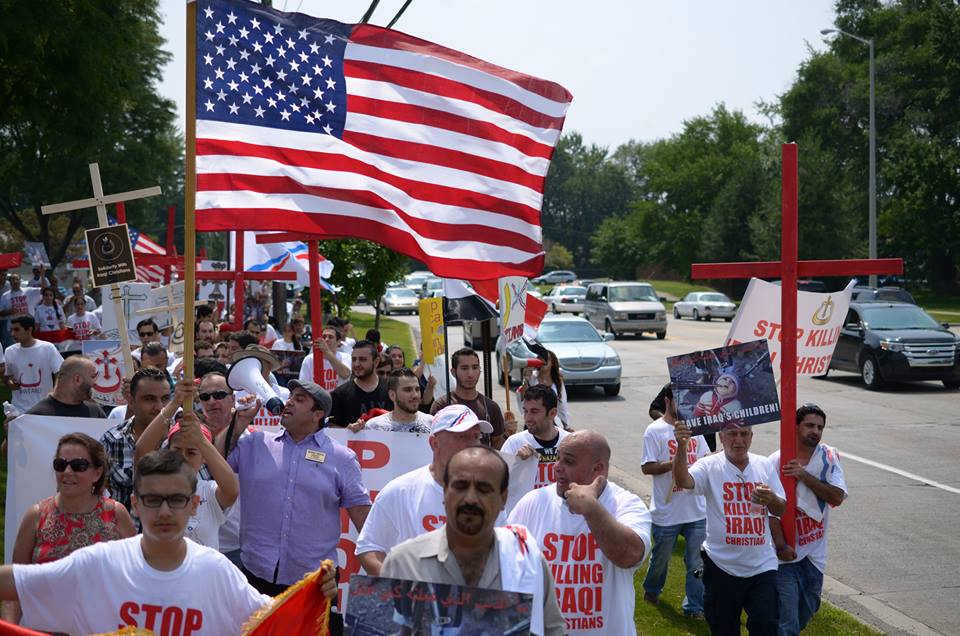 Detroit (AINA) -- over 2,500 Assyrian held a rally on August 10 in Detroit in support of the Assyrians of Iraq, who have been driven out of the Nineveh Plain of north Iraq by The Islamic State (ISIS). The Nineveh Plain is north of Mosul and is the largest area in Iraq with a majority Assyrian Christian population (AINA 2014-08-07). Detroit is home to 120,000 Assyrians, mostly Chaldeans (Roman Catholics).
The Detroit rally follows rallies that were held in Chicago and San Francisco on August 8, which saw 4,000 Assyrians demonstrating in Chicago and 1,000 in San Francisco (AINA 2014-08-09).
On August 2nd rallies were held simultaneously in more than 25 cities in the world (AINA 2014-08-02) to draw attention to the persecution of Assyrians by the Islamic State, which has destroyed churches, killed Assyrians and driven them from their homes (Timeline of ISIS in North Iraq).
The flight of Assyrians began when ISIS captured Baghdede (Qaraqosh), Karamlis and Bartella, then moved north of Mosul and captured Tel Kepe, Batnaya and Telsqof, who had already been abandoned. In Baghdede 50,000 Assyria residents fled at 2 AM after church bells warned them that Kurdish forces were withdrawing from the city.