Assyrians Demonstrate Worldwide Against ISIS Persecution
Posted 2014-08-02 20:59 GMT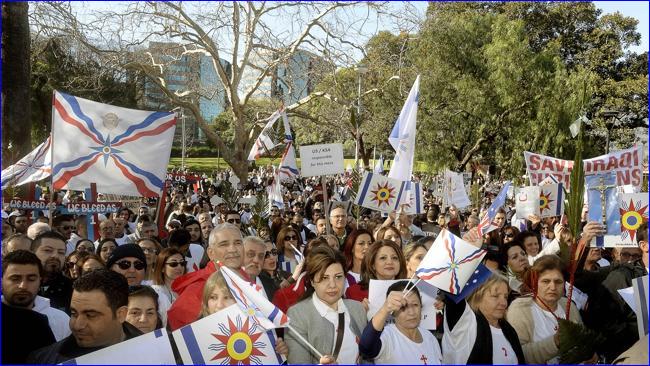 (AINA) -- Thousands of Assyrians held demonstration in major world cities today to support the Assyrians Christians of Mosul, who have been completely driven from the city by the Islamic State (IS, formerly ISIS). Demonstrations were held in the following cities:
Arbel, Iraq
Arhus, Denmark
Augsberg, Germany
Beirut, Lebanon
Cologne, Germnay
Copenhagen, Denmark
Detroit, United States
Enschede, Holland
Gothenburg, Sweden
Gutersloh, Germnay
Hamburg, Germnay
Hamilton, Canada
Jonkoping, Sweden
London, England
Los Angeles, United States
Melbourne, Australia
New York, Unites States
Norrkoping, Sweden
Paris, France
Phoenix, Unites States
San Francisco, Unites States
San Jose, Unites States
Stockholm, Sweden
Sydney, Australia
Toronto, Canada
Vienna, Austria
In all the demonstrations, the people wore a white shirt emblazoned with a red Arabic letter "noon", which stands for the Arabic word for Christian (nasrani). Two weeks ago ISIS marked all Christian homes and institutions in Mosul with this letter to identify them as Christian, and wrote "property of the Islamic State" on most of them (AINA 2014-07-19).
In Sydney over 6000 thousand people attended the demonstration.
In London 150 people joined the demonstration
In San Francisco more than 1,000 people turned out.
In New York 200 people attended.
The demonstrations were a result of a grassroots effort by Assyrians throughout the world and were organized and coordinated using social media.
The Islamic State captured the city of Mosul, Iraq on June 10. Almost immediately thereafter it began to drive Assyrians out of Mosul and destroy Christian and non-Sunni institutions (AINA 2014-07-29).