Continuing Attacks Against Assyrians in Iraq Renew Calls for a Safe Haven
Posted 2004-10-30 07:26 GMT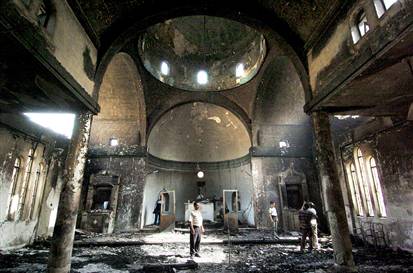 (AINA) -- On October 16, another five ChaldoAssyrian Churches were bombed in Baghdad. Suffering substantial damage, the five Churches included Saint Joseph (West Baghdad), Saint Joseph (Dora), Saint Paul (Dora), St. George (Karrada), and Saint Thomas (Mansour). St. Thomas Church suffered the greatest damage with a subsequent fire that ravaged the interior of the old church structure.
The ever escalating attacks (AINA 09-13-2004, 06-20-2004) against the Iraqi ChaldoAssyrian Christian community have ranged from ten church bombings to-date, to beheadings and burnings (AINA 10-06-2004, 09-26-2004) of civilians. In the past year alone, over 100 reported and confirmed victims have been ChaldoAssyrian. The varied rash of attacks have no direct military, economic, or political effect other than the intended creation of a general sense of mass panic and flight in one of the most vulnerable communities in Iraq. The August 1 Church bombings succeeded in doing just that, with several reports (AINA 09-30-2004, 08-18-2004) indicating that over 40,000 ChaldoAssyrians had fled Iraq into neighboring Syria with the hope of emigrating to the West. The flight has accelerated an earlier pattern of exodus that some estimate may have halved the ChaldoAssyrian population of Iraq to 1-1.5 million inside the country.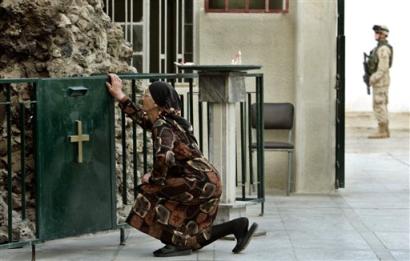 The ongoing and escalating attacks have not gone unnoticed in Washington DC. A major focus of the Middle Eastern American Convention for Freedom and Democracy on October 1 highlighted the plight of the indigenous Christian communities including the Lebanese Christian and Egyptian Copts who face similar pressures. For the ChaldoAssyrians, the ongoing violence has prompted calls for an administrative area in the Nineveh Plain to help establish a secure environment as a "Safe Haven" for internally displaced and threatened ChaldoAssyrians as well as the fair allocation of reconstruction resources necessary to increase the capacity of the region to absorb the influx of new refugees. The proposal -- long advocated by ChaldoAssyrian groups -- has received greater support recently. Ms. Nina Shea, the Director of the Center for Religious Freedom at Freedom House, described ChaldoAssyrians as "canaries in a coal mine" in a recently published commentary, and urged the establishment of an administrative area or Safe Haven as recognized in article 53D of the Transitional Administrative Law (TAL, English, Arabic) of Iraq. Ms. Shea said in her commentary, "...they are apprehensive about the short-term survival of their community, citing church reports that due to terrorist attacks targeting the ChaldoAssyrian Christian community, as many as 40,000 of them have fled in the past two months."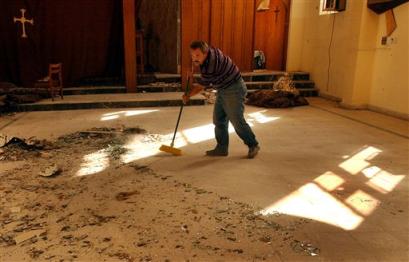 It is widely expected by ChaldoAssyrian leaders in the diaspora that any real movement on an administrative area/safe haven for ChaldoAssyrians in northern Iraq abutting the Kurdish occupied area will likely provoke reactionary pressure and threats from the KDP. As an example, just days after Freedom House's call for a Safe Haven for ChaldoAssyrians, a ChaldoAssyrian leader in Iraq, Mr. Yonadam Kanna of the Assyrian Democratic Movement (ADM) was quoted by Elaph, as refusing such a remedy for the violence afflicting ChaldoAssyrian civilians. Seeking not to appear to be distinguishing ChaldoAssyrians from other Iraqis, Mr. Kanna said that he sought a safe haven for all Iraqis, not just ChaldoAssyrians.
The official statements by Iraqi ChaldoAssyrian leaders are widely seen as direct evidence of pressure and threats by the KDP and, perhaps, others in an orchestrated campaign to squelch burgeoning international calls for a ChaldoAssyrian Safe Haven Administered Area. The threats are not to be taken lightly. As one leader noted "We know our people and our leaders face real dangers in Iraq, especially when it comes to the KDP. One just needs to remember the fate of Mr. Francis Shabo." Mr. Shabo was a ChaldoAssyrian member of parliament in the northern Iraqi parliament. Mr. Shabo was responsible for the adjudication of land disputes filed by ChaldoAssyrians against Kurdish squatters. According to an Amnesty International Report on Northern Iraq, Mr. Shabo was assassinated by KDP security forces outside his home under direct orders from KDP leadership.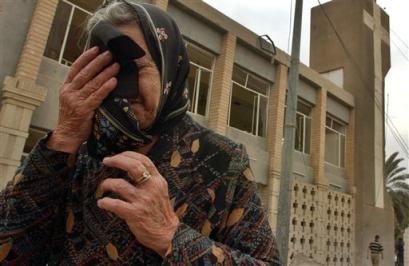 Other diaspora based leaders have warned that "refusing a safe haven for our beleaguered people will not bring us respite. Buckling in under KDP or any other threats will only further embolden them. Our people are in a state of panic and flight. It can hardly get worse." Another noted, "There is only one hope for the preservation of the ChaldoAssyrian community in Iraq and that is a Safe Haven." Another observer noted that the international community stepped in after the first Gulf War to assist the communities in the south and north of the country. "The Kurds established a Safe Haven to secure themselves from attacks by the Iraqi government of Saddam Hussein, only to later persecute their own minority -- the ChaldoAssyrians. We are facing a potential crisis of an even greater magnitude now as the stark reality of the total disappearance of the original people of Iraq becomes a distinct possibility."
The most recent attacks, however, have convinced ChaldoAssyrian leaders that the first and foremost priority remains security. Calls are mounting for security at all Churches, institutions, towns and villages. However, for ChaldoAssyrians, the sticking point becomes who will provide the security. Already thinly spread, Coalition forces may be unable or unwilling to assist especially because of a feared greater Islamist backlash against vulnerable ChaldoAssyrian civilians seen as collaborating with the "infidels." Some reports have suggested that KDP warlord Masoud Barzani has considered moving his paramilitary forces into occupying the remaining northern Iraqi Assyrian towns and villages in the Nineveh Plain under the pretext of providing security. As one observer noted, "The KDP is already believed responsible for many of the attacks and the insecurity in the region. To suggest they have a desire to help stabilize the area is a not so cleverly disguised scheme to extend the KDP's occupation from the historically Assyrian provinces of Dohuk and Arbil to Nineveh as well."
Even the nascent Iraqi government is having its own difficulties securing areas in and around Baghdad and Fallujah, and would be hard pressed to guarantee any real solution at this time. The multinational forces, Task force Olympia, in the Nineveh governerate are also resource limited since they number less than half the forces they replaced back in Februray. For most ChaldoAssyrians, centuries of persecution have convinced them to rely on themselves. The only viable option is self-defense. ChaldoAssyrians are calling for greater training and funding of local defense personnel to safeguard Churches, villages and towns under threat.
ChaldoAssyrians had never sought an independent police force and have no long term plans to do so. As one leader noted "This would simply be an interim step to help secure Churches, towns and villages until the government is better able to take on that burden. If the Iraqi government is truly interested in helping to preserve the oldest living people and culture in Iraq, they must actively support efforts allowing ChaldoAssyrians to defend themselves." The Iraqi government's eloquent statements of condemnation regarding church bombings not-with-standing, the real test of the Iraqi government's commitment to pluralism and democracy in Iraq will be the facilitation of ChaldoAssyrian self-defense.