How the World's Oldest Assyrian Monastery Came Under Threat
By Stephen Starr
Posted 2017-07-26 20:12 GMT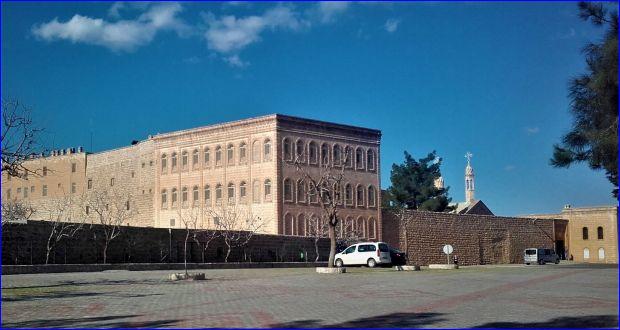 Outside St Gabriel's Monastery, a fortress-like complex in rural southeast Turkey, monks and nuns scurry between prayer and farm work. Barley, olive trees and orchards all need tending to and minds are focused on the surrounding fields. Inside, guides offer tours in Turkish, but not English, or even Arabic -- the common parlance of many monastery residents and local Christians alike. Founded by two monks in 397, the monastery was once a major centre of Christian faith and learning in upper Mesopotamia. By the 6th century, more than 1,000 monks prayed here, worked the land and learned the Aramaic alphabet, the language spoken by Jesus Christ.
Related: The Case of the St. Gabriel Assyrian Monastery in Midyat, Turkey
But it is the question of land that now sees St Gabriel's, the world's oldest Assyrian monastery, at the centre of discord with local villages and government bureaucrats that some say threaten its very existence. In 2014, the Turkish authorities returned to the monastery 14 parcels of land amounting to 61 acres, as part of the government's so-called "democratisation package". The process was the first step of its plan to fall in line with Ankara's EU accession requirements by handing back property taken decades ago from religious minorities across Turkey. At the time, the monastery welcomed that restitution as a "partial solution". However, ownership of a further 80 acres is today bitterly disputed. The state's forestry administration and three Kurdish villages ringing the isolated monastery say the land is theirs, and have fired off other serious accusations at St Gabriel's. The case is before the European Court of Human Rights. "Today the court process continues [and that means] the Kurdish farmers are not using the land," said an official at the monastery who asked not to be named because of the ongoing dispute. The Tur Abdin plateau on which St Gabriel's Monastery sits is home to dozens of churches and Christian sites in varying stages of decay and repair that, more than 1,000 years ago, made it the heartbeat of Assyrian Orthodoxy for the region. At its centre was St Gabriel's; once of such standing that it was feted with treasures by emperors in Rome. Today, the monastery holds within its walls three churches and a crypt where thousands of martyrs and saints are said to be buried. Over the centuries, it has been no stranger to turmoil. Its entire community was beheaded by invading Mongolian armies in the late 14th century. A century ago, during the massacres of about 1.5 million Armenian, Assyrian and other minorities by the Young Turk government, local Kurdish villagers occupied St Gabriel's and massacred anyone they found. That horror still undermines relations in the area today. More recently, with local Kurdish villages' demands for farmland intensifying, animosity has escalated between them and the 60 residents of St Gabriel's. At a court hearing over land ownership in 2009, one village leader claimed the monastery was involved in attempting to convert local children to Christianity. "So the state has begun to investigate these irrational assertions seriously and a court process has been launched with a whole bunch of such false claims," said the monastery official. This spring, the archbishop of Tur Abdin and monastery resident, Samuel Aktas, toured several local Assyrian villages to plead with locals to maintain peace with their Muslim neighbours. "The [court] process makes everyone worried, not only us Assyrians. But, of course, as a minority we are facing more problems," said a high-ranking cleric at St Gabriel's who believes its future is at risk. Some commentators have suggested the land dispute is being ignored by Ankara in retaliation for a campaign by international Assyrian groups for recognition of the 1915 massacre as genocide. The ongoing conflict between Turkey and rebel Kurds has also placed the monastery close to the geographic centre of longstanding political violence. Five people were killed in a suspected separatist bomb attack on a police station in Midyat, 22km northwest of St Gabriel's, last June. Military checkpoints around the monastery are a common sight. Several years ago, the monastery was closed to visitors because of the Kurdish unrest and though it has since reopened, come 4.30pm each day, its black, cast iron doors are bolted shut for the night. The Turkish authorities say the painstaking process of returning property to Christian and other minorities shows it has embraced a new chapter of inclusivity. Under the AK Party government, more than 1,000 religious sites and land plots that a century ago belonged to Jewish, Greek, Assyrian and Armenian communities have been returned to their respective foundations, and some are once again being used for worship. Questions regarding the St Gabriel's land dispute posed via phone and email to the directorate general for foundations, the state body responsible for returning property, went unanswered. Across the flat plains surrounding St Gabriel's as a soft breeze blows, the most conspicuous sight is of the fortified stone walls erected around the monastery's property. They are an uncommon though telling barrier in a part of Turkey where disputes over land look set to colour relations for years to come.