Turkey Removed Assyrian Sculpture From Public Square
Posted 2017-01-17 12:49 GMT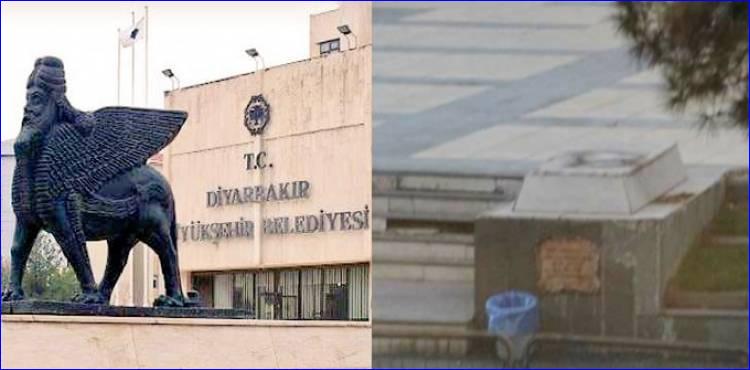 Diyarbakir (AINA) -- Turkish authorities removed an Assyrian sculpture from a public square on January 8. The sculpture, an Assyrian winged bull known as a Lamassu, was in front of the local council building in Diyarbakir. No explanation has been provided by the Turkish government.
Diyarbakir is home to many Assyrians and is 55 miles north of Mardin and Tur Abdin, the historically Assyrian cities in Turkey.
The sculpture was erected by the pro-Kurdish Peoples' Democratic Party (HDP), which has many Assyrian members and a strong presence in Diyarbakir. It was removed after Turkey placed unelected government loyalists in charge of the municipality, under the emergency decree issued after the failed military coup in July 2015, which gave sweeping powers to the government.
Since the failed coup, Turkey has engaged in a severe crackdown on Kurds in the area, imposing curfews and removing dozens of Kurdish mayors. On November 16, 2016 it removed the only Assyrian mayor in Turkey (AINA 2016-11-17).
Erol Dora, an Assyrian member of the Turkish Parliament from HDP, raised the issue of the sculpture in parliament. He asked the interior minister why the sculpture was removed and what has become of it. No response to his inquiry has been made.