Iraq's Assyrian Iwo Jima
By Thomas J. Craughwell
Posted 2016-11-01 05:47 GMT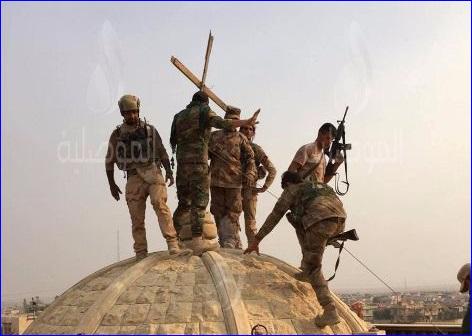 After a week of hard fighting last month, Iraqi government forces drove ISIS from the town of Bartella, liberating a stronghold of Iraqis who belong to the Assyrian Orthodox Church. In their euphoria, Christian militia, who call themselves the Nineveh Plains Force, used two broken pieces of lumber to cobble together a cross. They climbed to the top of the Mar Shmony Church and erected the cross on the dome. One of the militiamen draped the cross with an Iraqi flag, another set up a Nativity scene he had found in the rubble, while still another rang the church's bell, which somehow had been overlooked by the Islamic State vandals. The rude cross on the dome is a powerful symbol for the people of Bartella. When ISIS forces occupied the town two years ago, they tore down every cross they could find, smashed the face of a sculpture of Bartella's most famous son, Patriarch Yacoub III, then desecrated the churches. The interior walls of Mar Shmony were defaced with ISIS slogans painted in black and white -- the jihadists' favorite colors -- as well as triumphalist graffiti such as "Islam is above the cross." Christian militia who entered the vacant sanctuary found the place trashed -- they had to step over scorched fragments of burned prayerbooks before they could assemble in the pews to pray the Our Father. Bartella was doubly a target for ISIS, as it stands only eight miles east of Mosul and its population of approximately 20,000 is almost entirely Christian. According to a report in the Los Angeles Times, once the town was in ISIS's hands, the jihadists went street by street and sprayed painted "Property of Islamic State" on Christian-owned homes and businesses. Often the declaration was accompanied by the Arabic abbreviation for Nasrani, a pejorative term for Christians. Some Bartella Christians, desperate to save their property, painted "Owned by a Sunni Muslim" on their doors.
Related: Timeline of ISIS in Iraq
Related: Attacks on Assyrians in Syria By ISIS
ISIS has been viciously persecuting Christians and other religious minorities such as Shia Muslims and Yazidis. In March 2016, Secretary of State John Kerry denounced ISIS for its "systematic effort to destroy the cultural heritage of ancient communities -- destroying Armenian, Syrian Orthodox, and Roman Catholic churches; blowing up monasteries and the tombs of prophets; desecrating cemeteries.... [ISIS] has threatened Christians by saying that it will, quote, 'conquer your Rome, break your crosses, and enslave your women.'" What ISIS has done to Christians in the Middle East is easy to find online, but too gruesome to describe here. In the meantime, it's a cause for celebration that at least one Christian community has been liberated and has been able to re-erect the cross in a land where Christians have lived and worshipped since the age of the apostles. May that gesture be Iraq's Iwo Jima, and mark the beginning of the end of ISIS.