Assyrians in Sweden Demonstrate Against Kurdish Aggression in Syria
Posted 2016-01-19 01:58 GMT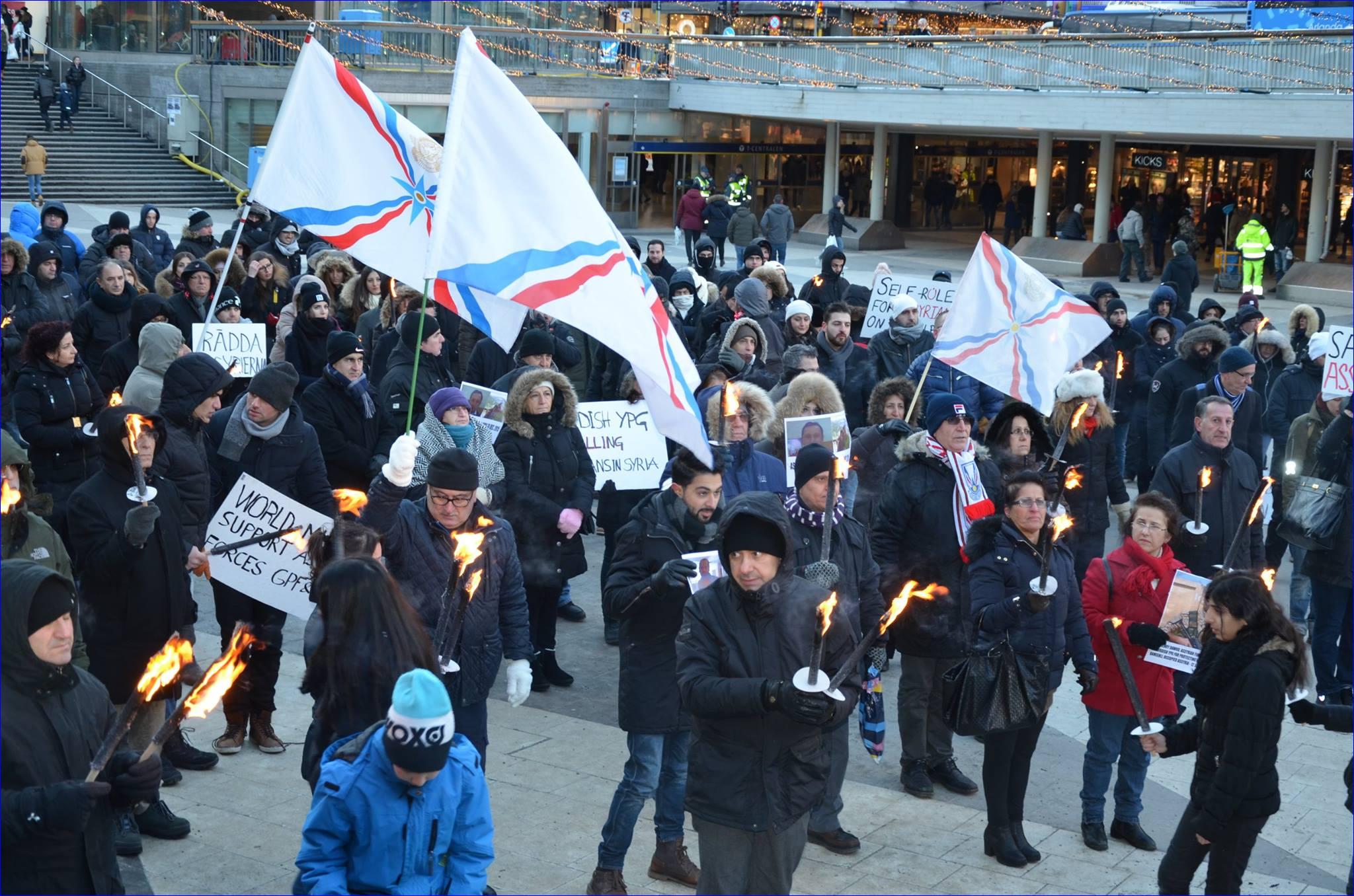 Stockholm (AINAI) -- Assyrians gathered on Saturday, January 17 in Stockholm to demonstrate against the Kurdish PYD party and its armed wing the YPG in Syria. The demonstration was organized by the Assyrian Federation of Sweden. More than 200 Assyrians attended the demonstration despite extremely cold weather.
In the early hours of Tuesday, January 12th, members of the Kurdish People's Protection Units (YPG) conducted a large attack (AINA 2016-01-12) on Assyrian checkpoints that surround Al-Wusta, an Assyrian neighborhood in the center of city of Qamishli, using more than 30 vehicles and hundreds of heavily armed Kurdish fighters against the Assyrian Gozarto Protection Forces. The fighting lasted for at least three hours and ended after the Kurds called upon a Syrian government representative to mediate a cease-fire. One Assyrian was killed and two injured; three Kurds were killed.
Qamishli is located in the Hasaka province, in northeast Syria.
The population of the province of Hasaka is nearly equally divided between Assyrians, Arabs and Kurds. The city of Qamishli was almost entirely Assyrian until the early 1980s and was established by Assyrian survivors of the genocide of 1915 perpetrated by Ottoman Turks against the Christian populations of Greeks, Armenians and Assyrians. At that time many Kurdish clans acted as the henchman of the Ottoman government. It is natural that the recent developments in Qamishli recall those memories of Christians, who do not trust Kurdish expansionism and self-declared autonomy and control over the region.
YPG's latest attacks on Assyrians came after their earlier attacks on Turkmen, Arabs and other Kurdish groups not willing to collaborate with them. Amnesty International and Human Rights Watch both recently documented massive human rights violations by the YPG, a Syrian PKK offshoot, including forced evictions and the destruction of homes and property of non-Kurdish populations in regions under its control (AINA 2015-11-10).