Assyrian Church of the East Elects New Patriarch
Posted 2015-09-18 19:12 GMT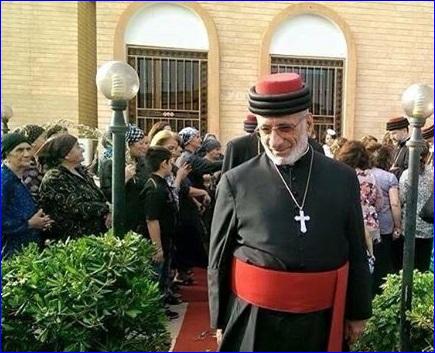 Arbel, Iraq (AINA) -- After two days of deliberations in Arbel, Iraq, the Synod of the Holy Apostolic Catholic Assyrian Church of the East announced today the election of Bishop Gewargis (George) Sliwa as the next Patriarch. The post had been vacant since the passing of the previous Patriarch on March 26 (AINA 2015-03-27, 2015-04-09).
Patriarch Sliwa was born on November 23,1941 in Habbaniya, Iraq. He was consecrated Metropolitan of Iraq on June 14, 1981 in Chicago, Illinois by his predecessor, Patriarch Dinkha IV. Since his consecration, the Metropolitan has made his headquarters in the Iraqi capital Baghdad, and has witnessed political upheaval, displacement and persecution of Assyrians.
Patriarch-elect Sliwa, the 112th patriarch of the Church of the East, will be consecrated at St. John's Cathedral in Arbel on Sunday, September 27, and will assume the name Mar Gewargis III. The Patriarchal See of the Assyrian Church of the East will return to Iraq after having been established in-exile in the United States since 1933.