Thousands Attend Funeral Mass for Assyrian Patriarch
Posted 2015-04-09 02:43 GMT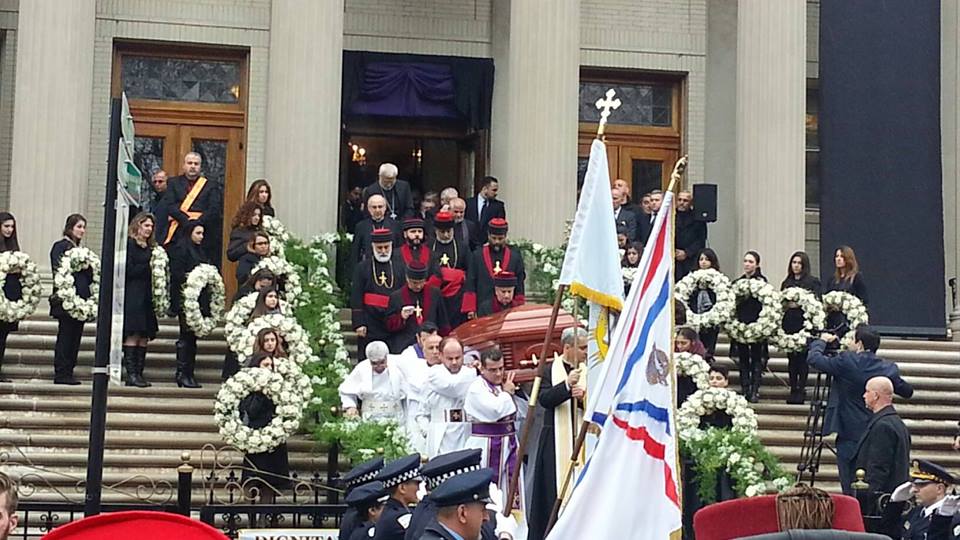 Chicago (AINA) -- The Patriarch of the Holy Apostolic Catholic Assyrian Church of the East was laid to rest today in a funeral service attended by thousands in Chicago, and watched by thousands of others across the world. The funeral service began at 10 A.M. at St. George Church in Rogers Park, Chicago, and ended at about 12:30 P.M.
The service was attended by dozens of civil and religious dignitaries, including Catholic Archbishop Blase Cupich.
Patriarch Dinkha IV was the 111th Patriarch of the Church of the East. He was consecrated as Patriarch on October 17, 1976. Serving 39 years at his post, his tenure was the tenth longest in church history.
The funeral was emotional and somber, with members of the laity and clergy unable to hold back their tears as the coffin was escorted out of the church while the choir sang the traditional Assyrian funeral farewell hymn "Stay in Peace."
The funeral was broadcast live by Assyrian National Broadcasting and was viewed by hundreds of thousands of Assyrians throughout the world. The Church of the East has communities in Canada, United States, most European countries, Australia, New Zealand and India.
In Thrissur, India, located in the south, members of the Assyrian church held a procession through the city to honor the Patriarch. The Assyrian Church of the East is the oldest church in India, having been established in 300 A.D.
The Patriarch was buried in Montrose Cemetery in Chicago.
Bishop Aprim Mooken, from India, is now the Locum Tenens of the church. A new patriarch will be elected in 40 days when the Holy Synod meets in Arbel, North Iraq for that purpose.
On April 2nd the Secretary General of the United Nations, Ban Ki Moon, sent the following letter of condolence to Bishop Mooken: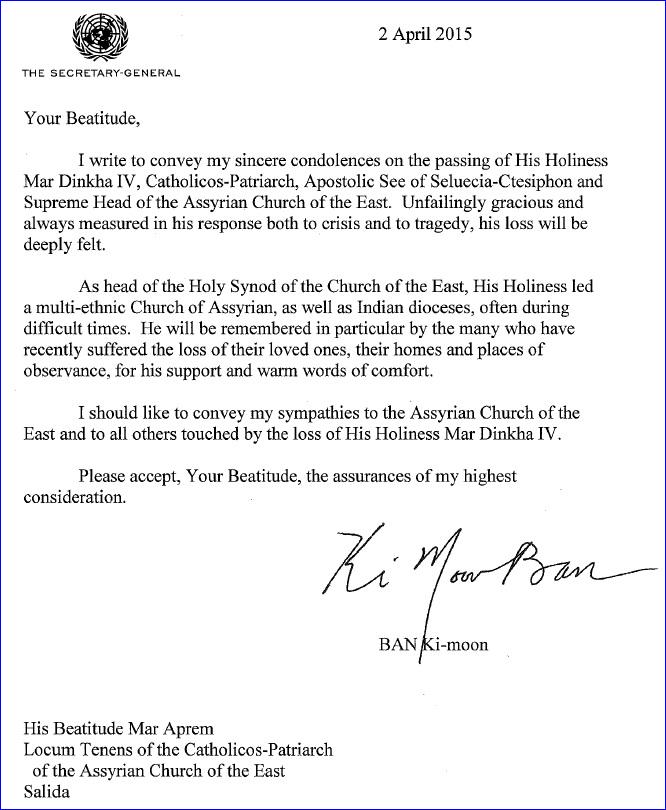 On March 26 the Syriac Orthodox Patriarch, His Holiness Aphrem Karem, sent the following letter of condolence to Bishop Mooken: