Assyrians in Sweden Show Support for Assyrians of Mosul
Posted 2014-07-30 23:21 GMT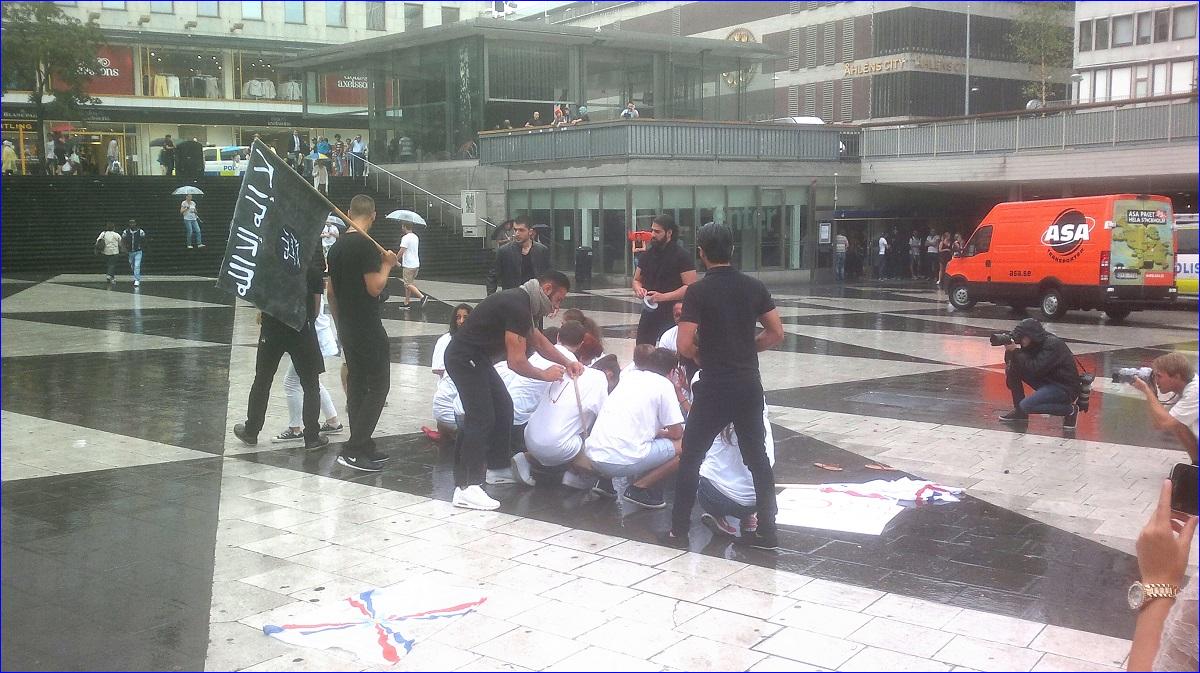 Stockholm (AINA) -- The Assyrians of Stockholm showed their support this week for the Assyrians of Mosul, Iraq, who have been driven completely from the city by the Islamic State of Syria and Iraq (ISIS), which captured the city on June 10 and began to drive Assyrians out of Mosul and destroy Christian and non-Sunni institutions (AINA 2014-07-29).
Demonstration
On Wednesday, June 30 the Assyrian Federation of Sweden organized a dramatic enactment of ISIS members persecuting Assyrians. The demonstration was held at Stockholm's Sergelstorg plaza, near Central Station.
The enactment began with a number of Assyrians walking in the plaza, all wearing white shirts. A group portraying ISIS members then entered the plaza carrying the black flag of ISIS and began forcefully rounding the Assyrians up and placing them at the center of the plaza. As each Assyrian was "captured" and brought to the center, the Arabic letter "noon" was written on his shirt. The "noon" stands for the Arabic word "Nasrani" (Christian), which ISIS began painting on the homes of Assyrians in Mosul two weeks ago (AINA 2014-07-19).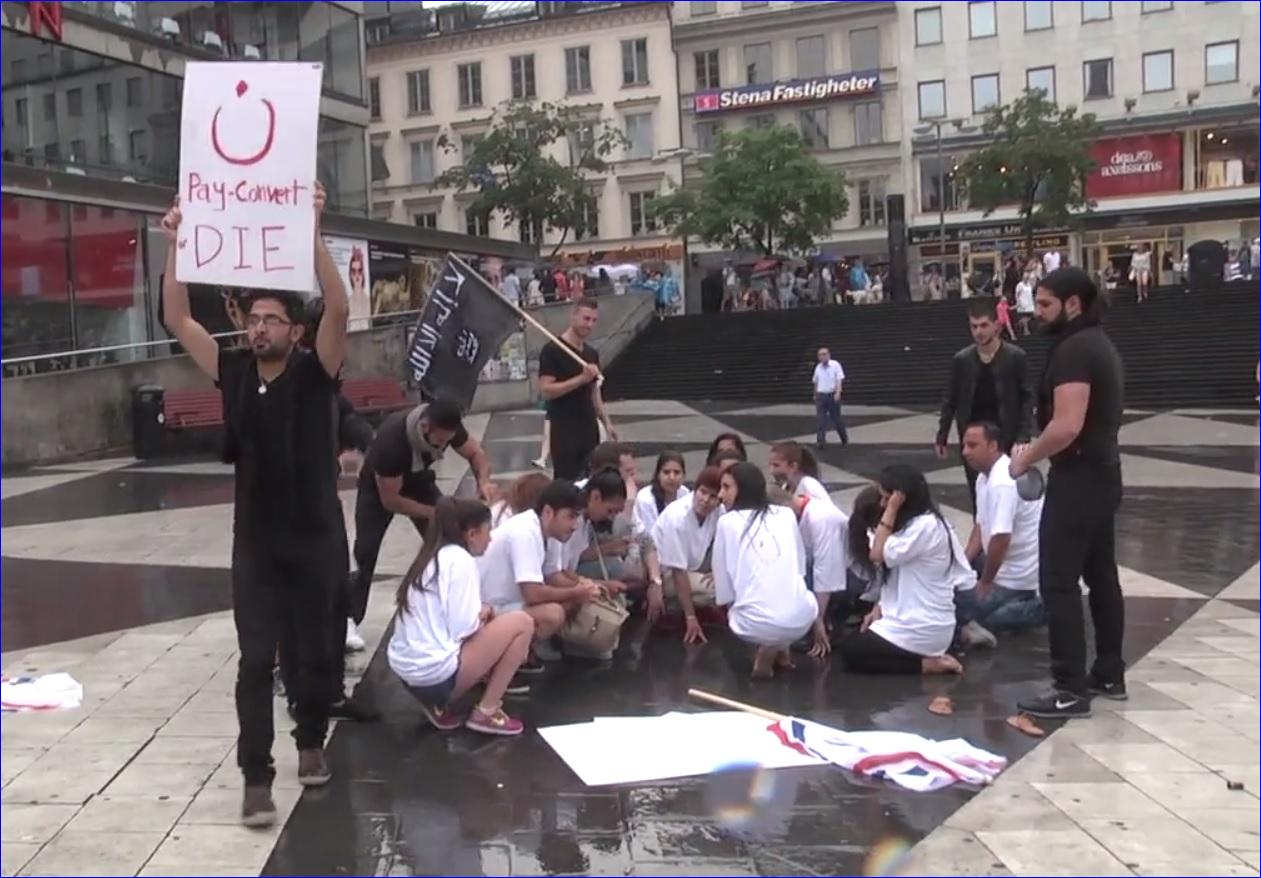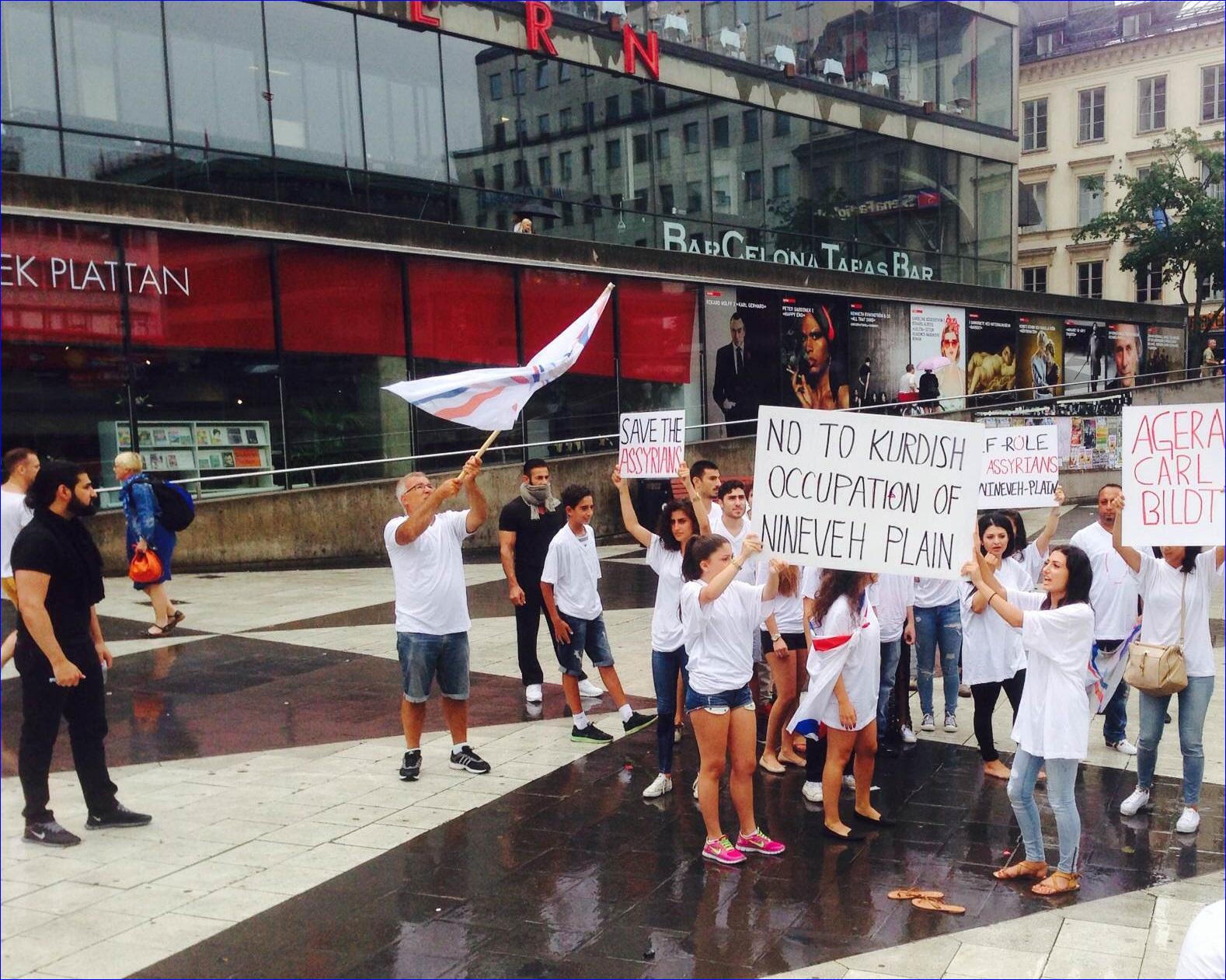 A large crowd people stopped and watched as each Assyrian was captured and marked with the letter "noon." Several Assyrians who were watching the demonstration began to weep.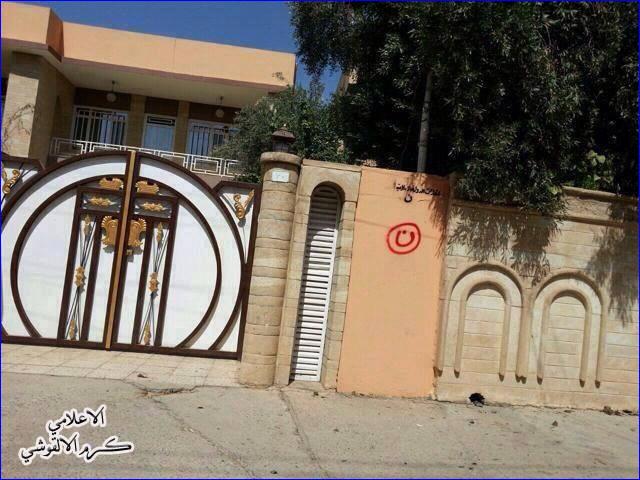 The event was covered by Sweden's largest daily, Aftonbladet, as well as Varlden Idag, Dagen and Assyria TV. A video of the event is available at Assyria TV.
Football Fans Show Support
On Tuesday, June 29 the Assyrian owned football team Assyriska played Hammarby at the Tele2 Arena in Stockholm. Most of the nearly one thousand Assyrians who attended the game to cheer their team wore a white shirt emblazoned with a red letter "noon" in support of the Assyrians of Mosul.