Kidnapped Assyrian Nuns Released
Posted 2014-07-14 23:08 GMT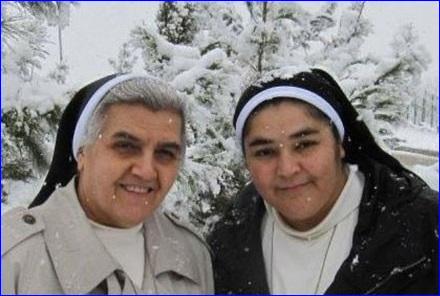 (AINA) -- The Assyrian website ankawa.com is reporting that five Assyrians, including two nuns, have been released. Chaldean Patriarch Louis Sako said via telephone the victims are now in the city of Dohuk (Assyrian Noohadra) and in good health. No ransom was paid for their release.
The two Chaldean nuns from the Daughters of Mary Order, Sister Miskintah and Sister Utoor Joseph, as well as Hala Salim, Sarah Khoshaba and Aram Sabah were kidnapped on June 28 (AINA 2014-06-30).
Sisters Miskintah and Utoor managed an orphanage for girls in Mosul, in the Khazraj neighborhood near Miskintah Church. After Mosul fell to ISIS, the two nuns brought the orphaned girls to the city of Dohuk for safety. The Nuns had returned late Saturday, June 28 to Mosul, accompanied by Hala, Sarah and Aram, to inspect the monastery and were kidnapped.
It is believed the kidnappers were Muslims.