5 Assyrians, Including Two Nuns, Missing in Mosul
Posted 2014-06-30 20:30 GMT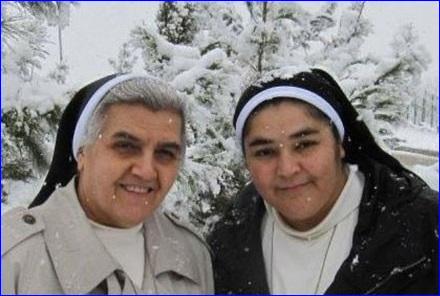 Mosul, Iraq (AINA) -- The Assyrian television channel Ishtar TV is reporting that 5 Assyrians have gone missing in Mosul. Two Chaldean nuns from the Daughters of Mary Order, Sister Miskintah and Sister Utoor Joseph, as well as Hala Salim, Sarah Khoshaba and Aram Sabah have not been heard from for nearly two days.
Sisters Miskintah and Utoor managed an orphanage for girls in Mosul, in the Khazraj neighborhood near Miskintah Church. After Mosul fell to ISIS, the two nuns brought the orphaned girls to the city of Dohuk for safety. The Nuns returned late Saturday to Mosul, accompanied by Hala, Sarah and Aram, to inspect the monastery but there has been no contact with them nor any trace of their whereabouts since then.
It is believed they have been kidnapped by Muslims.
Nearly all of the Christians of Mosul have fled the city since it fell to ISIS on June 10. ISIS members bombed an Armenian church which was under construction in the Left Bank neighborhood, near al-Salaam hospital and looted The Church of the Holy Spirit (AINA 2014-06-12). Two days after taking over Mosul, imposed Islamic law (Sharia) (AINA 2014-06-14) and began collecting the poll tax (jizya) from Christians (AINA 2014-06-21). On June 21 ISIS members raped a mother and daughter and killed four women for not wearing the veil (AINA 2014-06-23).