Assyrians in U.S. Rally for Assyrians in Iraq
Posted 2014-06-21 14:16 GMT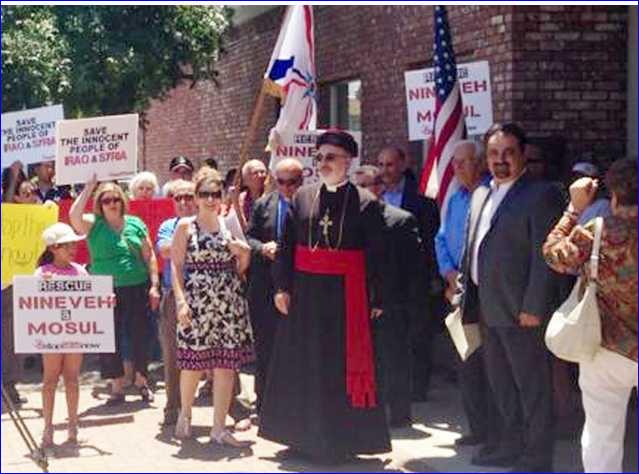 (AINA) -- Assyrians in the United States held demonstrations in three cities on Friday in support of Assyrians in Mosul, Iraq, and other areas which have fallen under the control of the Islamic State of Iraq and Syria (ISIS). Mosul has been cleared of Assyrians and other Christians, as they fled the city after the onslaught of ISIS (AINA 2014-06-11, 2014-06-20).
Demonstrations were held in Chicago, home to 90,000 Assyrians, San Jose, home to 50,000 Assyrians and Turlock, home to 15,000 Assyrians.
ISIS has quickly begun to impose Islamic law and to attack non-Muslim cultural institutions (AINA 2014-06-12).
ISIS warned the Christian residents of Mosul, specifically women, to wear the Islamic veil
ISIS members bombed an Armenian church which was under construction in the Left Bank neighborhood, near al-Salaam hospital
ISIS looted the Church of the Holy Spirit, it removed most of its electrical equipment
ISIS cut off water and electricity to parts of Mosul and the surrounding villages (AINA 2014-06-18)
ISIS Destroyed a statute of an Arab poet and threatened to destroy archaeological sites (AINA 2014-06-19)
The United Nations estimates that 500,000 Iraqis have been internally displaced as a direct result of ISIS.