Coptic Christian Girl, 14, Abducted By Muslim in Egypt
By Mary Abdelmassih
Posted 2012-11-02 01:17 GMT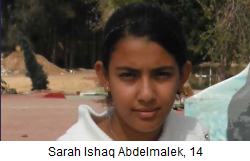 (AINA) -- Although the abduction and forced Islamization of Coptic Christian minor girls in Egypt is quite common (AINA 8-11-2009), especially with the rise of Islamists in Egypt after the Muslims Brotherhood took over governing the country, the case of 14-year old Sarah has caused a stir.
Sarah Ishaq Abdelmalek, born on August 1, 1998 in the town of el-Dabaa, 130 kilometers from Mersa Matrouh, was on her way to school with her cousin Miriam on Sunday, September 30, when they stopped at a bookshop. Miriam want ahead of Sarah to school, leaving Sarah at the bookstore. No one has seen Sarah ever since.
After filing a missing person report with the police, her father received a call to tell him that he will never see his daughter again.
Anba Pachomius, acting Coptic Pope is Bishop of Marsa Matrouh, and Sarah is one of his congregation. Pachomius has said in many interviews that Sarah is only a child and has to be returned to her family without delay.
On October 18 President Morsi was on an official visit to Mersa Mahrouh and the Copts in the region. Bishop Anba Pachomius instructed Father Bigem, supervisor of the Matrouh churches, to deliver a petition to Morsi, informing him of Sarah's abduction and accusing Mahmoud Selim Abdel Gawad, who owns a bookshop next to the school, of abducting her. Abdel Gawad is the son of a Salafist leader in the area.
Father Bigem said that the girl's father is concerned because Abdel Gawad is a Salafist. "Security knows her whereabouts," said Father Bigem, "and they make promises to resolve the crisis, but it's just words."
Security officials in Matrouh sought the help of the Salafist Sheikh Borhamy from Alexandria, however, he told them that the Salafists in Matrouh are not from the same school he belongs to, and he was unable to help.
Human rights and other civil organizations, together with the National Council of Women, lobbied for Sarah to be reunited with her family without delay. The Council declared its rejection and condemnation of the issue of child marriage, especially as the law criminalizes the act and punishes the offender.
The Salafist Front issued a statement on October 28, warning human rights organizations, especially the National Council for Women, not to attempt to return Sarah to her family, as she has converted to Islam and married a Muslim man. They said "Attempts of the church and human rights organizations to put pressure on the Interior Ministry to return the girl is rejected in form and substance, confirming that the girl has full freedom to convert to Islam and have full freedom to marry as long as 'she has reached puberty and can withstand marriage with its consequences and responsibilities.' We will address in any way, attempts to force Sarah to do anything against her freedom."
This was rejected by the church. Bishop Pachomius, in his appearance on the program In The Light on the Coptic channel CTV, said that the church will not be silenced by the threatening statements from the Salafists.
"Does the law allow a girl of this age to marry?" said Bishop Pachomius. "Have you asked the opinion of the girl's family before marriage since she is minor? Did the girl receive session of advice and guidance?" These sessions were obligatory in cases of conversion since 1851, until they were stopped by Mobarak's minister of Interior in 2004. In these sessions a priest or a sheikh would interview a potential convert to make sure of the decision. Copts have been calling for the return of these sessions, while Islamists are refusing.
In another statement, the Salafist Front said that there is no truth to what the girl's family says about her age. To prove her right age the Coptic Association of Victims of Abduction and Enforced Disappearance (AVAED) published a copy Sarah's birth certificate, proving she was born on August 1, 1998. AVAED vowed to pursue the matter even if they take the case to international human rights organizations responsible for protecting children's rights.
Yesterday the Salafists issued a statement saying that if Sarah returns to her family, she will be "killed" by her father. This was denied by her father, who said "I want my child back in my arms, even if she became a Muslim."
Dr. Naguib Gabriel, head of the Egyptian Union of Human Rights Organization, delievered a memorandum to the Minister of Interior from Anba Pakhomius, stating that that the acting Patriarch is infuriated by the disappearance of the child who has to return to her family in order to achieve "justice, security and peace." The memo warned of the outbreak of sectarian strife if the matter remain unsolved.
Most Copts believe that Sarah has to return to her family, even if they have to go on strike. "If we let this matter go, none of our girls will ever be safe again," commented Coptic activist Mark Ebeid.