Abduction and Forced Islamization of Christian Coptic Girls Continues in Egypt
Posted 2009-08-11 17:57 GMT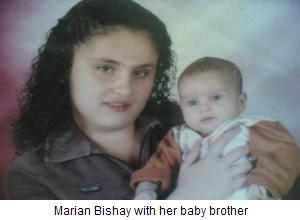 (AINA) -- The systematic abduction and forced Islamization of Coptic minor girls in Egypt is a frequent, dangerous and a rapidly escalating phenomenon, The problem was brought to light by the Coptic Pope Shenouda III as far back as December 17th, 1976, when he protested during a conference held in Alexandria that "there is pressure being practiced to convert Coptic girls to embrace Islam and marry them under terror to Muslim husbands" and demanded that the abducted girls be brought back to their families.
Dr. Waheed Ala, renowned Coptic activist and researcher at the Observatory of Religions in Switzerland, believes that the issue of abducted Coptic girls forms the most complex problem in the relations between Christians and Muslims of Egypt -- especially because abductions are done in cooperation between Saudi-funded associations and the Egyptian State Security.
These frequent abduction cases are reported by Coptic human rights advocacies but rarely by the main stream media, and when, they are mostly portrayed as 'an elopement of a loving teen couple.'
Another recent victim of abduction is 15-year old Marian Bishay, who went out on July 15, 2009 to get dinner for her mother and young brothers from a local restaurant, 50 meters away from where she lives in Omrania, Giza, but failed to return home. The local police succumbed to pressure and issued a missing person report after initially refusing.
The Bishay family, whose father works in Kuwait, reported the matter to Free Copts advocacy in Cairo, asking for support. According to activist Osama Eid "the police just shrugged their shoulders and said there is nothing we can do, you search -- which we actually did."
When the abducted girl's father, Amir Bishay, returned from Kuwait due to the incident, the police refused to issue another report under the pretext that they investigated the initial report with no results. The police also released three suspects who worked at that same restaurant.
"We had to participate with Marian's family in their search" said Osama Eid. "We found out that the owner of the restaurant and one of his co-workers, who were under suspicion, disappeared when they knew that the matter was becoming serious, as the rest of the Bishay family came to Giza from Upper Egypt."
Being unsuccessful in filing another report with the police, father Amir Bishay filed a complaint with the Attorney-General against three of the owners of the "Momen" restaurant in Omrania. He accused them of abducting his minor daughter.
According to Free Copts, the Bishay family intend to protest through a sit-in at the Coptic Dioceses of Giza, objecting to the failure and neglect of state security with regards to Marian's case. "Especially because at the same time a Muslim girl was abducted by a registered criminal and was returned within three days, while the fate of Marian is still unknown," says Eid.
The family has received conflicting reports of Marian's whereabouts; some reports said she was raped and forced to convert to Islam, while others said that she was kept in Alexandria against her will.
Commenting on this case, renowned attorney Ramsis El Naggar said that according to Article 271, the abduction of a minor is punishable by 15 years imprisonment, and the penalty is increased if it was combined with rape.
'It is strange that the State agencies abide by silence and protect the criminals who kidnap the girls, and that they put pressure on us so that we do not even call for the State to play its role in protecting its citizens," said Dr. Waheed Ala, "We have noticed that when the kidnapped girl is a Muslim, the security agencies get active and work hard and arrest the kidnappers who then face trials and get imprisoned, but this does not happen when the kidnapped girl is a Coptic Christian. This is especially true because in the majority of cases, the State Security is the one who masterminds the kidnapping plans."
In another case of abduction of a Christian Coptic girl, Mamdouh Nakhlah, attorney and President of "Al Kalema" human rights organization said that his Center, had received a plea for help from the brother of minor Reda Botros Samaan who disappeared on July 22, 2009 on her way to sit for her exams, in Dayrout, Assuit. Nakhla had to complain to the Minister of Interior on July 24 as the police refused to issued a report.
"After state security investigated, it was found out that although she was a minor, she converted to Islam," said attorney Nakhlah. He explained that it is not allowed to entice a minor to change her religion, even of her own free will. "A minor does not have full power of consent, and his/her will is not considered in matters such as travel, marriage, banking, so it should not be taken in matter of changing of one's religion, which is the most significant than the rest. A child follows his parent's religion until he comes of age, then he/she has the right to change freely without being under the tutelage of anyone."
Reports of tens of cases of kidnappings of minor girls from Christian families takes place every year, with very little, if any, success in getting them back to their families, and not one single person accused of abduction of Coptic girls has been brought to justice.
Reports on the disappearances in July 2009 which were reported to Coptic advocacies brought no positive news. The whereabouts of Irene Hanna Labib (AINA 7-18-2009), Amira Morgan and Ingy Basta (AINA 7-30-2009) is still unknown, despite their families efforts in locating them.
After years of denial, Dr. Mustafa Al-Fiqee, member in the Parliament and the Chairman of the Foreign Relations Committee of the Parliament, raised the issue of kidnapped Coptic girls in his article in the semi-official Al-Ahram newspaper "The Era Dialogue….All in One" published on January 7, 2008, in which he confessed that there are dozens of cases of "kidnapped minor girls from some Christian families."
"The most important point in Dr. Mustafa Al-Feqee's declaration is that he emphasized, without any doubt, that what the Copts of Egypt -- both at home and in the Diaspora -- say about the kidnapping of minor Christian girls is the truth." commented Dr. Waheed Ala. "It is not lies, and it is not done to tarnish Egypt's reputation. They simply demand that the State addresses this dangerous phenomenon. What tarnish the reputation of Egypt are the agencies of the Interior Ministry, with all their various specializations; the complicity of Al-Azhar, and the incitement and financing from Saudi Arabia."
By Mary Abdelmassih