New Book Published on Embattled Assyrian Monastery in Turkey
Posted 2012-08-28 00:12 GMT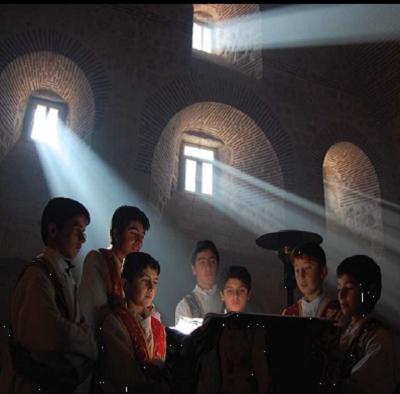 (AINA) -- On Surday August 26, Dr. Pieter Omtzigt, MP for the Christian Democratic Party CDA in the Netherlands, presented the first copy of a book entitled The slow disappearance of the Syriacs from Turkey and of the Grounds of the St. Gabriel Monastery to Archbishop Polycarpus, the apostolic vicar of the Syriac Orhodox church in the Netherlands.
The Syriac Orthodox Monastery St. Gabriel (founded 397 AD) is one of the oldest monasteries in the world. The Turkish state is expropriating its land through a series of court cases. The existence of the monastery is at stake (full coverage).
Politicians from the German Bundestag, the US congress, European Parliament and the Dutch Parliament, as well as a number of leading academics contributed to this volume.
The book discusses the slow and nearly complete disappearance of the Syriac (also known as Assyrian and Chaldean) community form Turkey, the history and importance of the St. Gabriel Monastery and the ways the Turkish state expropriates the monastery's land.
The treatment of the St. Gabriel monastery is a the litmus test of freedom of religion in Turkey and has already been debated the parliaments from the Netherlands, Germany, the US and the European parliament.
Chapter authors:
William Dalrymple
prof. Martin Tamcke
Alan Hurst
prof. Herman Teule
Jens Nieper
Dr. Aryo Makko
Dennis Pastoor
Soner Onder
Horst Oberkampf
Markus Tozman
Dr. Renate Sommer (Member of the European Parliament)
Ingrid Fischbach (Member of the German Bundestag)
Dr. Sebastian Brock
prof. Baskin Oran
Yakup Bilge
Gus Bilirakis (Member of the US Congress)
Ute Granold (Member of the German Bundestag)
Dr. Naures Atto
Dr. Sébastien de Courtois (Member ot the Dutch Parliament)
Dr. Pieter Omtzigt (Member ot the Dutch Parliament)
Editors: Pieter Omtzigt, Markus Tozman and Andrea Tyndall
For more information contact
Kees den Biesen, president Stichting ondersteuning St. Gabrielklooster, keesdenbiesen@hotmail.com
Pieter Omtzigt, Member of Dutch Parliament , omtzigt@gmail.com +31 6 1830 5974