Assyrian Genocide Monument Unveiled in Paris
Posted 2011-11-03 00:51 GMT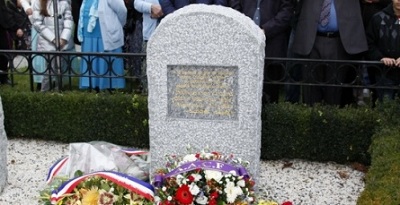 (AINA) -- An Assyrian Genocide monument was erected on Sunday, October 30 in Saint-Brice Paris in memory of Assyrian victims of genocides, including the the Turkish genocide of Assyrians in World War One, which claimed 750,000 Assyrian lives (75%). The monument is the second to be erected in France. The first was erected in Sarcelles.
Over 700 people were present at the unveiling of the monument.
The genocide monument was sponsored by the Assyrian-Chaldean Association of France (AACF) and the Assyrian-Chaldean Union in France (UACF).
Sabri Atman, the founder and director of the Assyrian Genocide Research Center, said "Turkey with all its political clout and influence would have liked to stop this memorial monument from being erected, but history cannot be denied or suppressed."
Atman also condemned the 1933 massacre of Assyrians (also known as Chaldeans and Syriacs) in Simmele, north Iraq by the Iraqi Army and demanded the Iraqi government officially recognize the Simmele massacre as an act of Genocide. The Simmele massacre inspired Rafael Lemkin to coin the word "genocide" (AINA 1-16-2007).
The Assyrian Genocide Research Center will work with Assyrian organizations in France to organize a conference in the French Parliament on the genocide of Assyrians.