Assyrians Continue Protests Against Baghdad Church Massacre
Posted 2010-11-19 01:45 GMT
Los Angeles/Stockholm (AINA) -- Assyrians in Los Angeles held a second demonstration today to protest the massacre at Our Lady of Deliverance in Baghdad, which occurred on October 31 and claimed 58 Assyrian lives. A demonstration was held in Los Angeles, and simultaneously in twenty cities around the world, on November 8 (AINA 11-10-20).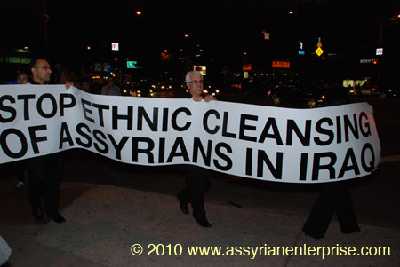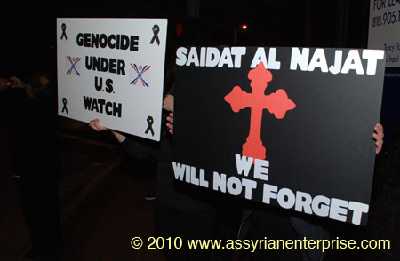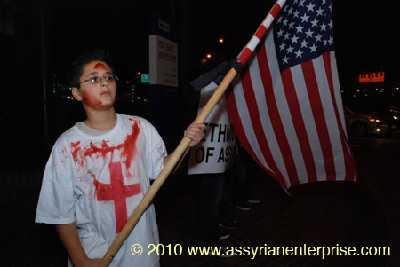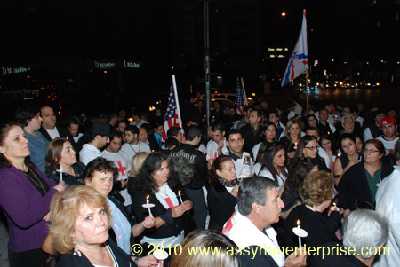 Assyrians protest in Los Angeles
In Sweden, the large Assyrian community of Sweden is continuing to show its support for the Assyrians of Iraq. Demonstrations have been held in Stockholm, Gothenburg, Gävle, Linköping, Eskilstuna and Landskrona. A church ceremony for the murdered Assyrians was also held in the Swedish city of Södertälje, where more than 20,000 Assyrians live.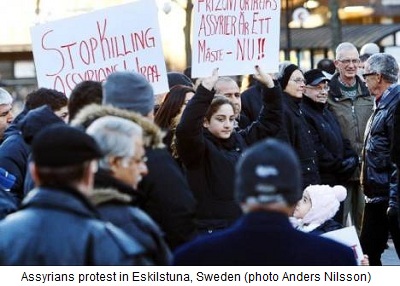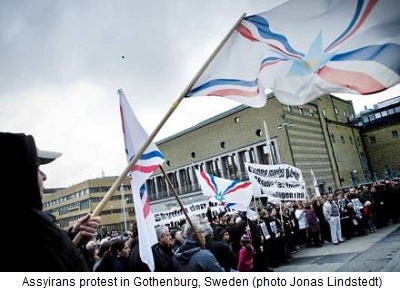 A demonstration outside the Swedish parliament will be held on November 23.
Sweden is home more than 100,000 Assyrians from Turkey, Iraq, Syrian and Iran.
A systematic campaign of violence has been targeting Assyrians since June 26, 2004, when the first church was bombed. Since that time, 66 churches have been bombed, 15 priests and bishops and hundreds of Assyrians have been killed and nearly half have fled to Syria and Jordan.
In April, 2003 Assyrians were 8% of Iraq's population, today they are 4%. Of the 2 million Iraqi refugees in Jordan and Syria, 40% are Assyrian. Of Iraq's three main ethnic groups, the Assyrians are the only indigenous group. Kurds are from Iran, Arabs are from Saudi Arabia. Assyrians are the only people that are native to Iraq.
According to Assyrian community leaders, Assyrians deserve protection and special consideration as the only indigenous people of Iraq. They are unarmed and cannot defend themselves. If Iraq cannot protect them, they should be allowed to protect themselves. Assyrians must be given an autonomous region in north Iraq, where they can govern themselves, setup their own police force, and protect themselves from radical Islamists.
The President of Iraq, Jalal Talabani, a Kurd, expressed support today for an Assyrian autonomous region (AINA 11-19-2010).
Assyrians are calling for a special commission, under the auspices of the UN or an independent Iraqi prosecutor, to investigate the Baghdad church massacre and recommend steps to insure the safety of Assyrians.