Memorial Service Held in London for Baghdad Church Massacre Victims
Posted 2010-11-13 22:29 GMT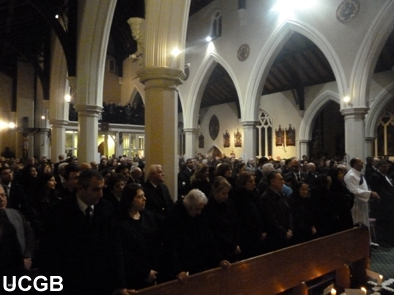 London (AINA) -- A memorial service was held yesterday for the victims of the Baghdad church massacre, which killed 58 Assyrians (also known as Chaldeans and Syriacs). Father Nizar Samaan, the Syriac Catholic Bishop of London, said "History will disgrace all of us if we do not expose to the world what happened, raise our voice, condemn the killing, and do our best to prevent it from happening again."
According to Father Samman, Assyrians are for Iraq and Iraq is for all Assyrians. He vowed that Assyrians will not leave Iraq and will not allow terrorism to prevail.
Father Samaan demanded a stronger response to the massacre, not only from politicians but from Islamic Authorities as well. He asked that Islamic clerics issue fatwas (religious edicts) against killing innocent people.
The Baghdad church massacre occurred on October 31, when the Islamic State of Iraq, an Al-Qaeda affiliated group, stormed Our Lady of Deliverance Syrian Catholic Church and killed 58 parishioners and wounded 75. Assyrians have demanded an end to the low-grade genocide of Assyrians which began on June 26, 2004, when the first church was bombed. Since that time, 66 churches have been bombed, 15 priests and bishops and hundreds of Assyrians have been killed and nearly half have fled to Syria and Jordan