Nuri Kino, Assyrian Journalist, Awarded European Parliament Journalism Prize
Posted 2010-10-13 06:00 GMT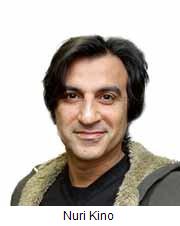 Brussels (AINA) -- Journalist and author Nuri Kino has been awarded the European Parliament's Journalist Prize for covering important European problems and promoting a greater understanding for EU's institutions and politics. This award comes a fortnight after the release of his latest novel, an international political thriller, Gränsen är dragen (The Line in The Sand) that he has written together with David Kushner, an American journalist.
Earlier today the European Parliament revealed the winners of its third annual prize for outstanding journalism. European countries had selected 76 nominees in four categories: radio, TV, newspaper and the internet. In the radio category Nuri Kino and Kajsa Norell's reporting regarding EU's grants to Turkey was selected as the Swedish winner. A jury in Brussels, comprised of members of parliament and journalists, had selected the four final winners, one in each category, from the multitude of nominees that were originally submitted.
In a formal ceremony in Brussels attended by parliamentarians and national awardees from EU nations, Nuri Kino accepted the prize that was presented by the president of the European Parliament, Jerzy Buzek.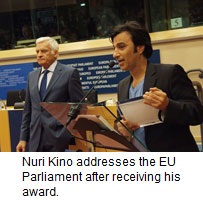 Mr. Kino said in his acceptance speech:
Thank you so much for this prestigious award.

Right now I miss my dear friend and colleague, Kajsa Norell, whom I did these reports with. Although her second child was due while we were producing, she kept on working until the very last day. Unfortunately, she was not able to join us here today.

In times when quality reporting is rare we would like to extend our gratitude to the Swedish Radio for believing in investigative journalism and for giving us the opportunity to deeply investigate irregularities. On that note Kajsa and I would like to address a special thank you to our editors Rolf Stengård and Cecilia Roos.

The prize belongs of course to all our sources, whether they are women in shelters in southeastern Turkey or officials in Brussels or Ankara. We also would like to share it with all our colleagues all over the world that are working under more and more difficult circumstances -- to those in prison and to those who lost their lives in the line of duty.

And please, all of you who are here today, don't forget that investigative journalism is a very important part of democracy!

With all my humbleness, thank you!
Nuri Kino and Kajsa Norell were awarded for their investigation of what happened to the billions of European grants that were sent to Turkey to help it adjust to European Union standards (AINA 1-11-2010, 1-14-2010). The majority of the impoverished farmers, sheltered women and child laborers have not seen a cent of this money. A lot of the grants ended up in the pockets of fake consultants and corrupt officials and individuals. Nuri Kino traveled through south eastern Turkey to find out if the EU grant had brought this section of Turkey closer to the EU. He met farmers in Midyat, women in shelters in Kiziltepe, handicapped persons in Diyarbakir and child laborers in Mardin. He later flew back to Ankara and Istanbul to interview officials and politicians. Kajsa Norell, one of Swedish Radio's specialists in EU questions, worked in parallel with him unearthing documents, reports and other information that showed how much money was sent to Turkey. She recorded the purposes for which these funds were intended, how the money was really spent and the audits the EU itself had made or should have made. Together they later produced the much discussed and prizewinning report series "EU's subsidy to Turkey" that was broadcast in January of this year.
Nuri Kino is currently in the news because of his novel, coauthored with David Kushner, Gränsen är dragen. He has previously been awarded the Golden Palm at the Beverly Hills Film Festival in the US and three Gold Spades in Sweden for best investigative journalism. He is one of Sweden's most decorated reporters.
According to Annika Bladh of BladhbyBladh, the publisher of Gränsen är dragen, "We are very proud and happy for the prize. Nuri is a very scrupulous author and journalist which we have already ascertained here at the publishing house. When he and David wrote Gränsen är dragen they devoted days to check details and circumstances. It is a suspenseful novel woven of fiction and actual incidents. It gives an insight into the war in Iraq, describes the perpetrators as well as the victims in blood and flesh as no other novel on the market."