Assyrian Journalist Nominated for Sweden's Highest Prize
Posted 2010-02-26 16:08 GMT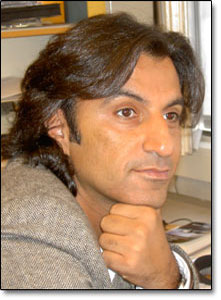 (AINA) -- Renowned Swedish-Assyrian freelance journalist Nuri Kino has been nominated for his fourth Goldspade (Guldspaden), the Swedish Pulitzer price, for his investigation On the Run Again. Kino was nominated for his tireless reporting about Assyrians and other non-Muslim minorities from Iraq. His investigation has gone on for more than a year and caused many debates in European parliaments. A selection of the reports has been published on AINA.
This is Nuri Kino's sixth nomination since he appeared on the international media arena. He has received The Goldspade three times before. Nuri Kino has been away from the investigation field for a couple of years, producing documentary films, writing a novel and the report By God - Six days in Amman, in falls 2008 he started four new investigations. If he wins the Goldspade he will be the only freelance journalist to have won it four times; only two others have won the prize four times.
"I'm of course very happy for this recognition, not only my colleagues' and mine but also for the Assyrian refugees. Now none can deny the truth of what really is going on in Iraq. What I hope is that this will lead to help for those that have suffered from all the wrong political decisions that have been made."
Kino shares the credit with his colleauges at Swedish Radio, Susan Ritzén, Tove Svenonius and Christopher Holmbäck.
The winners will be announced at the journalist gala on Saturday, March 20.
Nuri Kino's reports on AINA:
Swedish Migration Board to Review Iraqi Asylum Cases
Sweden May Have Illegally Deported Iraqi Refugees
Assyrian Refugees Expelled From Sweden -- Fleeing Again
Assyrian Refugees in Sweden Caught in Political Struggle
Swedish Asylum Case Highlights Dangers for Iraq's Assyrians