We Should Be the Ones to Put Turkey on Trial: Assyrian Bishop
Posted 2009-02-11 23:46 GMT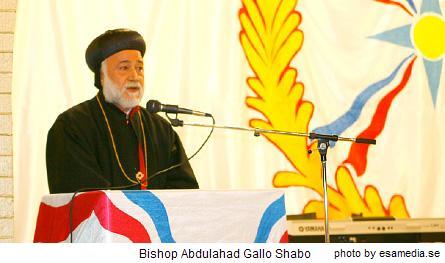 Södertälje, Sweden (AINA) -- Speaking during a ceremony on Sunday for the commemoration of Naum Faik, one of the founding fathers of the Assyrian movement, bishop Abdulahad Gallo Shabo said to an audiance of 600 Assyrians in the town of Södertälje they should not be afraid of Turkey's attempts to confiscate lands belonging to Saint Gabriel Monastery in Turabdin, south eastern Turkey.
"Turkey is putting our heritage on trial but I say we should put Turkey on trial. We should initiate court cases in the international courts and claim all the lands confiscated from us," said the bishop in a reference to the genocide of Assyrians perpetrated by Turks and Kurds between 1914 and 1918. Most lands in south eastern Turkey were Assyrian owned a few decades ago but the genocide, massacres and Turkish-Kurdish fighting wiped out almost all Assyrians, who now constitute a sizable Diaspora in the western world.
Attempts by Assyrians to resettle in their ancestral lands are met with discrimination and refusal. Many observers believe the case of Saint Gabriel Monastery is meant to discourage Assyrians from reclaiming their lands and resettling in Turabdin.
Click here for complete coverage of the St. Gabriel Monastery case.