Kurds Behind Violence Against Assyrians in Mosul: Iraqi MP
Posted 2008-10-25 20:59 GMT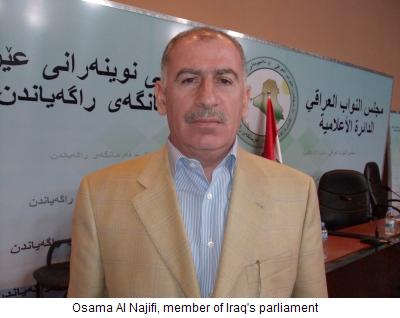 Baghdad (AINA) -- Iraqi Parliament member Osama Al Najifi said to the Iraq News Agency on Saturday that Prime Minister Nuri Al Maliki has confirmed that Kurdish political parties are carrying out the violence against Mosul's Assyrian community (AINA 10-16-2008).
"The prime minister showed me a document which he said proves the involvement of Kurdish militias in threats and killings against the Christian Assyrians in Mosul," stated Al Najifi, and said the prime minister told him "Your accusations against the Kurds have proven true." He notified the Iraqi News Agency that the committee charged with investigating the attacks on Assyrians in Mosul has clear proof of Kurdish involvement.
Al Najifi joined Assyrian MP Yonadam Kanna in calling for second Army Unit in Mosul -- composed mostly of Kurds -- to be replaced (AINA 10-24-2008). On October 19 Yonadam Kanna, a native of northern Iraq, said 90% of the attacks occurred in the areas which are under the control of the second army unit in Mosul.
Nuri Al Maliki hinted at Kurdish involvement earlier in the week when his office issued a statement on the events in Mosul, saying "political interests are behind what has taken place" (AINA 10-24-2008). The Iraqi parliament is expected to disclose the results of the investigation committee during the coming week.