Strong Assyrian Participation in US State Department Iraqi Working Groups
Posted 2002-10-31 17:00 GMT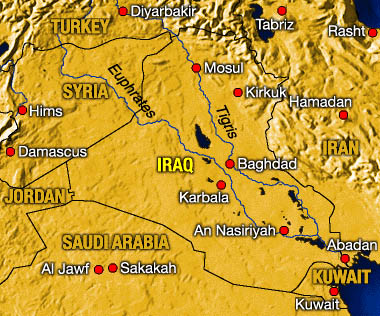 (AIAN) -- The Future of Iraq Project, an inter-agency program organized by the State Department (press briefing), is bringing Iraqi expatriates into various working groups to address the future of a post-Saddam Iraq. The goal of each group is to examine the current capability of Iraq in the group's specific area, and to develop contingency plans and programs for implementation once regime change is completed. There are six working groups, Transitional Justice, Public Finance and Accounting, Public and Media Outreach, Democratic Principles, Health and Humanitarian Issues and Water, Agriculture and Environment.
The working groups are comprised of a spectrum of Iraqis, including Assyrians, Kurds, Arabs and Turkomans. The Public and Media outreach group has 15 members, 3 of which are Assyrian. The Democratic Principles group has 32 members, 2 of which are Assyrian. The Water, Agriculture and Environment working group has 13 members, 5 of which are Assyrian. The strong Assyrian presence reflects the demographics of the Iraqi community in the U.S., nearly 90% of which is Assyrian. There are 400,000 Assyrians in the U.S, with large concentrations in Chicago (85,000), Detroit (100,000), the Bay Area (40,000), Los Angeles and San Diego (50,000), Phoenix (8,000), New York (15,000) and Boston (5,000). In Iraq there are 1.5 million Assyrians (also known as Chaldeans and Syriacs).
The Water, Agriculture and Environment working group (WAE) met on October 5th and 6th in Washington DC. The roundtable included 13 Iraqis and 15 U.S. officials from various government agencies, including the State Department, USAID, USACE, USGS and USEPA. Of the 13 Iraqis, 5 were Assyrian. The WAE group developed plans for short and long term projects in a post-Saddam Iraq. Short-term projects address the immediate aftermath of regime change, and focus on insuring the continuation of public utilities and services, such as water, electricity and sewage and garbage disposal. Long-term projects focus on the gradual rebuilding of Iraq, with a return to normalcy.
In the area of water, the WAE group shall set-up a mechanism for assessing the immediate needs in the water, environment and agriculture sectors, and to facilitate the cooperation of Iraqis with U.S. DART teams (Disaster Assistance Response Teams). Long-term projects include a study on regional water issues, for improving the quality of water in Iraq, and the mutual cooperation between Iraq, Syria and Turkey in managing their shared resource. The WAE group will also commission a study of the existing and planned dams in Iraq, and will recommend a moratorium on all dam construction until the need and environmental impact of each dam is determined.
In the Area of agriculture, the WAE group will prepare plans for providing spare parts for machinery (including irrigation pumps and delivery systems), assist farmers to conduct better pest management and improve the quality of seeds. Two short-term projects will replant the date palms in south Iraq and the apple orchards of Barwar in North Iraq.
In the area of environment, the WAE group will develop plans to assess environmental issues relating to health, economy and resources. In the immediate term, contingency plans will be developed for dealing with the aftermath of liberation, such as oil well fires and battlefield contamination, as well as immediate assessment of air and water quality. Long-term plans will focus on environmental clean up and remediation.
The U.S. government working groups on Iraq are an important mechanism for the rebuilding of Iraq if regime change is accomplished, as these working groups are comprised mainly of Iraqi expatriates, and it is these Iraqis who are striving to build a better Iraq once a new government is formed. In the U.S., the majority of Iraqis are Assyrians, and Assyrians are taking an active role in bringing about peace, prosperity and freedom to a new Iraq.