Assyrian Businesses, Church Attacked in Baghdad, 2 Killed
Posted 2013-06-26 23:45 GMT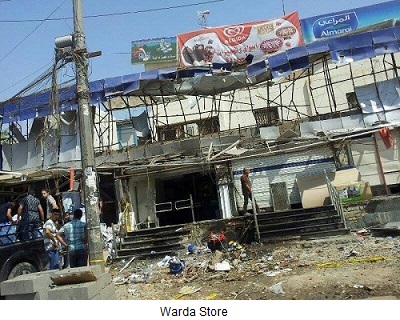 Baghdad (AINA) -- A series of attacks against Assyrian establishments in the last three days has shaken the Assyrian community of Iraq. Four Assyrian businesses and one church were attacked, resulting in two fatalities and more than 12 injuries.
Gunmen opened fire on St. Mary Assyrian Church at 2 AM on Tuesday morning, wounding two security guards. The gunmen were traveling in a civilian car, according to a source in the interior ministry, when they fired a barrage of bullets at the church, which is located in the Ameen Thania neighborhood in eastern Baghdad. The church guards were taken to Al Kindi hospital. According to Bishop Gewargis of the Assyrian Church of the East, who visited the guards at the hospital, one guard was released and the other remains in hospital in serious but stable condition.
Three Assyrian businesses were attacked in the Karada district. The Warda Store on Alkarada street was bombed, killing Ashur Yonan, an Assyrian, and a Muslim employee. Several others were wounded. The store was completely destroyed. A video posted on Facebook shows the aftermath of the explosion.
Simultaneous with the bombing of the Warda Store, another Assyrian Business, Mariana, in Alsinaa Souq, was attacked. There were no injuries.
In both attacks booby trapped cars were used.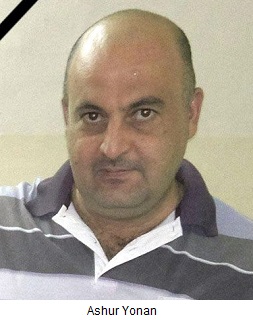 Two days earlier an attack occurred on Assyrian and Yezidi owned alcohol shops in Bataween. Muslims had threatened the owners and ordered them to stop selling alcohol.
Assyrians have been the target of a low grade genocide since 2004 (report).
The first church was bombed on June 26, 2004. This marked the start of the campaign against Assyrians. Since then the population of Assyrians in Iraq has dropped precipitously from 1.4 million to 600,000 -- more than one half of Assyrians have fled Iraq to Syria, Jordan and Turkey (report). This Assyrian flight has been caused by the following:
5 priests were kidnapped and released after ransom was paid. 7 priests and 3 deacons were murdered, for a total of 15. 8 of these occurred in Baghdad, 7 in Mosul.
73 churches were attacked or bombed since June, 2004: 45 in Baghdad, 19 in Mosul, 7 in Kirkuk and 1 in Ramadi (see church bombings).
At least 13 young women were abducted and raped, causing some of them to commit suicide.
Female students were targeted in Basra and Mosul for not wearing veils; some had nitric acid squirted on their faces. Elders of a village in Mosul were warned not to send females to universities.
Mahdi Army personnel circulated a letter warning all Christian women to veil themselves.
Al-Qaeda moved into an Assyrian neighborhood and began collecting the jizya and demanding that females be sent to the mosque to be married off to Muslims.
Assyrian businesses were targeted. 95% of liquor stores were attacked, defaced or bombed. 500 Assyrian shops in a Dora market were burned in one night (AINA 9-7-2005).
Property was confiscated by Kurds in the north and Shiites in Baghdad.
Kurdish authorities denied foreign reconstruction assistance for Assyrian communities and used public works projects to divert water and other vital resources from Assyrian to Kurdish communities. Kurdish forces blockaded Assyrian villages
Children were kidnapped and forcibly transferred to Kurdish families.