Assyrians in North Iraq Fear Ballot Rigging in January 31 Elections
Posted 2009-01-28 00:42 GMT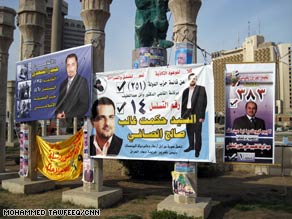 (AINA) -- Iraq's provincial elections, to be held on January 31, are of great importance for its minorities. Fears are growing, however, in the Nineveh Plain, an area within the Province of Nineveh that has experienced electoral rigging and voting irregularities. In the coming provincial elections in the province of Nineveh, the Assyrian, Yezidi and Shabak minorities are vying for at least one seat each in the new council, which will govern the large province with its mixed population.
Fear is growing, however, of a recurrence of previous election scams.1 In the 2005 national elections, the Nineveh Plain area, the last place in Iraq where minorities constitute the majority of inhabitants, extensive electoral rigging was documented by various independent groups. Many thousands of voters from the Yezidi, Assyrian and Shabak minorities were hindered from casting their votes. The U.S. Department of State's 2005 Human Rights Country Report for Iraq states:
In the January elections, many of the mostly non-Muslim residents on the Nineveh Plain were unable to vote. Some polling places did not open, ballot boxes were not delivered, and incidents of voter fraud and intimidation occurred. These problems resulted from administrative breakdowns on voting day and the refusal of Kurdish security forces to allow ballot boxes to pass to predominantly Christian villages.2
In the coming elections, the minorities in the Nineveh Plain fear their independent candidates will be discriminated against. They fear Kurdish forces, tied to different Kurdish political parties, will use their continued presence to intimidate and prevent people from voting for their independent candidates in order to maximize the chances of Kurdish affiliated candidates, which could in turn lead to the area being annexed by Kurdish groups.
Sources in northern Iraq have told AINA of Kurdish attempts to prevent independent minority representatives from gaining enough votes. Internally displaced persons who depend on aid are being told they must vote for pro-Kurdish slates or run the risk of losing their only means of support. Sources also indicate the KDP party has encouraged people to relocate their ration cards to the Nineveh Plain from the Dohuk governorate in order to increase the pro-Kurdish votes. Families who have agreed to relocate have received up to 10 million Iraqi Dinars.
Relatives of Yezidi MP Attacked
The Iraqi parliamentarian Amin Farhan told the Iraq News Agency on Monday his relatives in the district of Sheikhan in northern Iraq were beaten up after he filed a complaint (AINA 1-27-2009) against the Kurdish Democratic Party (KDP), led by Massoud Barazani. Farhan accused the KDP party of misusing Iraqi security forces for political rallying ahead of Saturdays provincial elections in Iraq. The KDP has long sought to put Assyrian and Yezidi areas in Iraq under its rule.
1 AINA 12-15-2005, 2-10-2005, 1-17-2005, 12-30-2004, 7-2-2001
2 Bureau Of Democracy, Human Rights, And Labor, U.S. Department Of State, Iraq: Country Reports On Human Rights Practices -- 2005 §3 (2006), describing voting "irregularities" and problems that occurred during the 2005 elections, including incidents of Kurdish forces' preventing ballot boxes to pass to Christian communities.