Jordan Should Legally Recognize Displaced Iraqis As Refugees
Posted 2007-05-11 06:42 GMT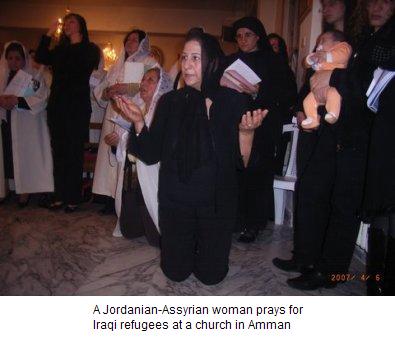 (AINA) -- Since the liberation of Iraq by the US, particularly after the bombing of the Shiite Golden mosque which ignited Shiite-Sunni violence, a steady flow of refugees has entered Jordan and Syria. It is estimated that there are 750,000 Iraqis in Jordan. A substantial percentage of the Iraqi refugees in Jordan are Assyrians (also known as Chaldeans and Syriacs). Christian Solidarity International estimates the number of Assyrians in Jordan to be 100,000. Though comprising only 8% of the Iraqi population, Assyrians comprise 40-50% of the refugees in Jordan and Syria (AINA, 5-8-2007). It is believed that nearly half of the Assyrians of Iraq have fled the country since 2003.
A recent report by the Swedish journalist Nuri Kino, who spent six days in Amman, Jordan investigating the condition of Iraqi refugees -- particularly Assyrians -- paints a bleak picture:
The typical refugee family has 5-7 people living in a single room
Rent is exorbitant and predatory, ranging from $100-300 per month
Most are unemployed because they lack legal status
Children are not allowed to attend public schools -- church schools were closed because the government feared that Christianity was being taught
Health and sanitation is extremely poor
Some women have turned to prostitution to support themselves and their families
Nearly all refugees depend on charities and churches for basic day-to-day needs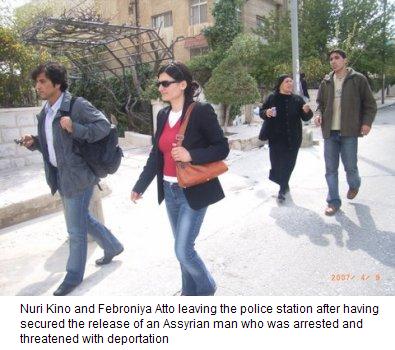 Displaced Iraqis in Jordan are not recognized as refugees, only as "guests." They must have either a Jordanian visa, something most of them lack, or be registered with the UN. Visas are valid for one month, after which each refugee must pay $2 per day to stay in Jordan. Since most cannot afford this, they turn into illegal aliens after one month. Nor are most of them registered with the UN. Illegal Iraqis are deported back to Iraq if they are caught. Even those that produce their UN issued registration cards identifying them as refugees are arrested and deported.
Iraqi refugees cannot, therefore, work legally, and fearing deportation to Iraq, which is tantamount to a death sentence, they choose not to risk venturing outside their homes to work. In fact, the report paints a depressing picture of refugees who spend nearly all their time inside their homes, akin to house arrest, for fear of being arrested and deported if they venture out into the city.
The absence of legal recognition of Iraqis as refugees greatly hampers the ability of international relief agencies to aid them. Human Rights Watch has called on the Jordanian government to at least grant the Iraqis temporary stay permits (The Silent Treatment). In its January report on the Iraqi refugees, the Jordanian Magazine JO said "the Jordanian government must reconsider this issue and accept the Iraqis as refugees for the sake of every one."
Legal refugee status would be temporary until such time as the Iraqis could be repatriated to Iraq, and in the case of Assyrians preferably to the Nineveh Plain in North Iraq. Legal status would allow the Iraqis to work to support themselves, and to put their children in schools. It would also greatly lessen the burden on international aid agencies as well as Jordan itself. It would give the Iraqis a semblance of normalcy and relief, removing the fear of arrest and deportation to Iraq. More importantly, it would greatly enhance their self-esteem. Iraqis are a resourceful people and given the chance, they can help themselves. Jordan must help the Iraqis help themselves by legally recognizing them as refugees.