Survivors Describe 'Nightmare' Fire At Iraq Assyrian Wedding
By Ismael Adnan
Posted 2023-09-28 15:56 GMT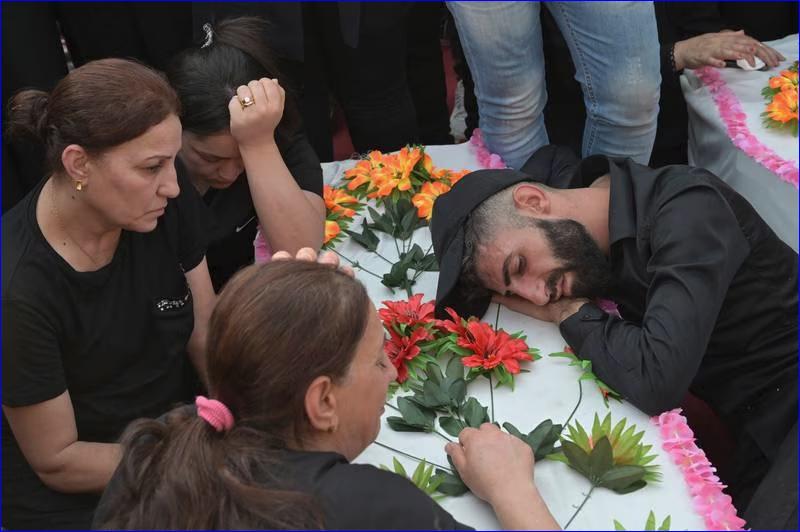 Sameer Noel is still in shock after surviving a devastating fire that broke out at a wedding in Iraq on Tuesday night, killing more than 100 people.
He describes the ordeal as a "nightmare".
"I managed to get out but saw people with burns and their flesh was peeling off their bodies," Mr Noel, 33, tells The National while standing in front of the burnt building.
"It was dark and people didn't know where to go."
Hundreds of people were celebrating in the Qaraqosh area of Iraq's Nineveh province when tragedy struck.
Also known as Hamdaniyah, Qaraqosh is a mainly Christian town just outside of Mosul, about 335km north-west of Baghdad. Many survivors said the building caught fire at about 10.45pm.
Mr Noel says it all happened in seconds.
"I was carrying a woman [whose limbs] had melted, she didn't have legs or arms, and another girl who lost her head," he recalls.
More than 1,000 people attended the wedding, he adds.
Salam Karouni, 38, says bodies were burnt, along with the furniture and other things around them.
"Everything melted," he tells The National.
It is not known what started the fire but some reports suggest celebratory fireworks set it off.
Many of the survivors said the fire started as the bride and groom began their slow dance. The flames raced through plastic decorations, causing parts of the ceiling to catch fire and fall.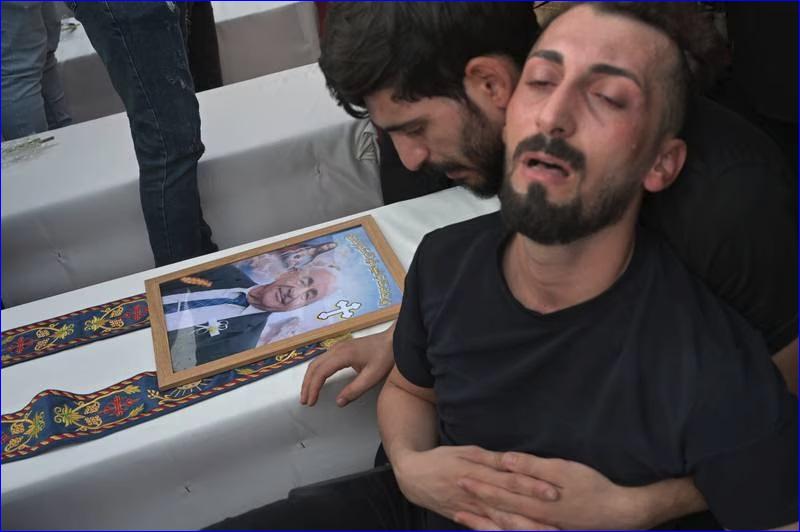 Flammable panels fuelled the blaze, officials said.
It remains unknown if the bride and groom were among those hurt.
Mr Karouni's brother-in-law was killed during the blaze and his nine-year-old son was missing.
"We don't know where he is, we have been searching for him in all hospitals," he says, adding that his brother-in-law went back into the hall to try to save people, but died there.
People were waiting outside the building in distress, while others searched for the remains of loved ones underneath the rubble.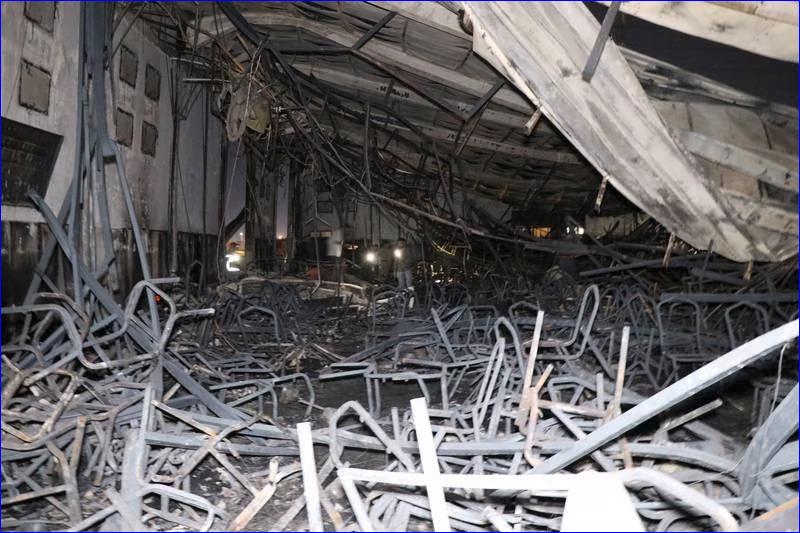 Hamdaniyah is home to mostly Christian Assyrians, who suffered when much of Iraq was overrun by ISIS between 2014 and 2017.
"Half of Hamdaniyah is gone," Mr Karouni says, his voice breaking.
Among those injured was a 13-year-old boy, Daniel Wissam, whose arms were severely burnt.
His mother and baby sister also suffered severe burns and were being treated in Erbil city in the Kurdistan region.
Hameed Boutrous, 44, was sitting at the end of the hall.
The wedding couple were dancing when fireworks were set off, causing materials on the ceiling to catch fire and fall, he says.
"I managed to run out but came back inside. I couldn't see anything as it was dark, we suffocated, most of the people went into the bathrooms and died from lack of air," Mr Boutrous says.
"There was no emergency exit or water sprinklers in the hall. There has to be several exit doors, we don't know who is responsible, we cannot blame anyone.
"This is a tragedy, we don't know how many people have died. There are many people who are still missing, I don't know if they are in Mosul or Erbil or lying between the dead bodies."
Preliminary investigation showed that the building was made of highly flammable construction materials, contributing to its rapid collapse, state media said.
At Mar Youhanna church, where the wedding service took place before the evening party, deacon Hani Al Kasmousa said prayers for the dead would take place at the cemetery because there was not enough room in the church for so many mourners.
"Yesterday there was a wedding and happiness. Now we are preparing their burial," he said, new coffins stacked along an alleyway near his church.
Interior Ministry spokesman Saad Maan said that the primary forensic report described a "lack of safety and security measures" at the venue.
Iraqi security forces arrested nine workers at the venue as part of an investigation, said Gen Abdullah Al Jabouri, a security official who heads the Nineveh Operations Command.
The US offered its support following the incident.
"We do stand ready to support the government of Iraq and its people at this tragic time," said US State Department spokesman Matthew Miller.
Mr Miller described the incident as "horrific" and expressed sent "condolences" to the families of the victims.
When Pope Francis visited Qaraqosh in 2021, residents crowded the streets in bright clothes, holding olive branches as Assyrian hymns played on loudspeakers, to celebrate the locals' return after years of militant occupation.
Only about 300,000 Christians remain in Iraq after most of the 1.5 million who lived in the country fled during the chaos following the US-led invasion in 2003, an exodus aggravated by ISIS's seizure of towns in the Nineveh plains in 2014.