European Governments Defend Iraq's Patriarch Sako
By Joseph Tulloch
Posted 2023-05-15 17:21 GMT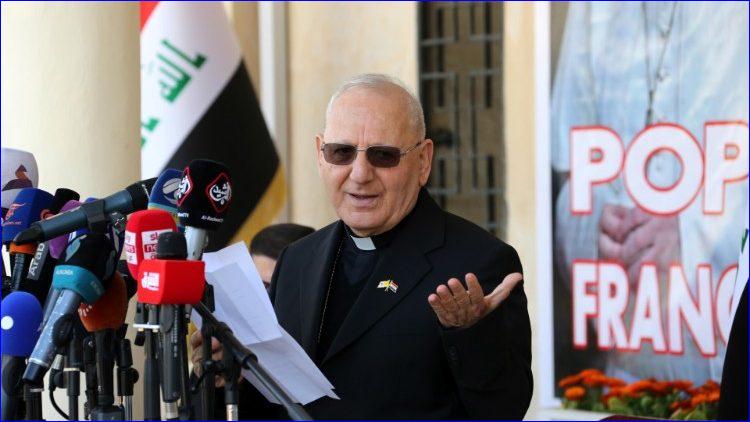 Eleven different European countries, together with the European Union, released a statement on Sunday evening affirming their support for Iraq's Patriarch Louis Raphaël Sako.
The Patriarch -- who heads the country's Chaldean Church, and was made a Cardinal by Pope Francis in 2018 -- is facing criticism over comments concerning political representation for Iraq's ancient Christian minority.
Sunday's statement expressed the European governments' "solidarity" with Patriarch Sako, and stressed the importance of his "efforts to protect the rights of Christians on the soil that they have inhabited for two millennia."
The statement
On Sunday evening, Patriarch Sako received a delegation of ambassadors and deputy ambassadors including those from France, Italy, Spain, the UK, and the European Union.
Together, they issued a statement in support of the Patriarch, with the approval of the ambassadors of Germany, Poland, the Czech Republic, Romania, Sweden, and Hungary.
In the statement, the ambassadors to Iraq note that they had visited the Cardinal "to express our solidarity regarding the recent public attacks against his person and our concern for the Christians and other religious communities of Iraq."
They also praise the Patriarch's "efforts to protect the rights of Christians on the soil that they have inhabited for two millennia."
The statement then goes on to appeal to the country's Christians to work together, noting that "the existing contrasts do not help their role in the Iraqi society", and expressing the wish that "problems be overcome and ever greater cooperation among the Churches be achieved."
The ambassadors conclude their note by reaffirming their support for "understanding and a peaceful dialogue among the different components of the Iraqi people" and "the preservation of the Country's diversity, which is one of its main assets."
The conflict
Attacks on Patriarch Sako began after his criticism of the Babylon Movement, a political party which claims to represent Iraq's Christian minority.
The Movement currently occupies four of the five parliamentary seats which the Iraqi constitution guarantees to Christians.
Patriarch Sako, however, together with other Christian figures, has said that its claims to be affiliated with the Chaldean Church are bogus, and that it does not represent the country's Christians. Members of the Babylon Movement were at the forefront of recent criticism against Patriarch Sako.
It is not just European governments who have come to the Patriarch's defence. On 8 May, the Prime Minister of Iraq's Kurdistan region vowed his support for the Chaldean leader, emphasising the need to "improve the situation of Christians" in the country.