Syriac Orthodox Church Opens University in Syria
Posted 2018-11-14 23:19 GMT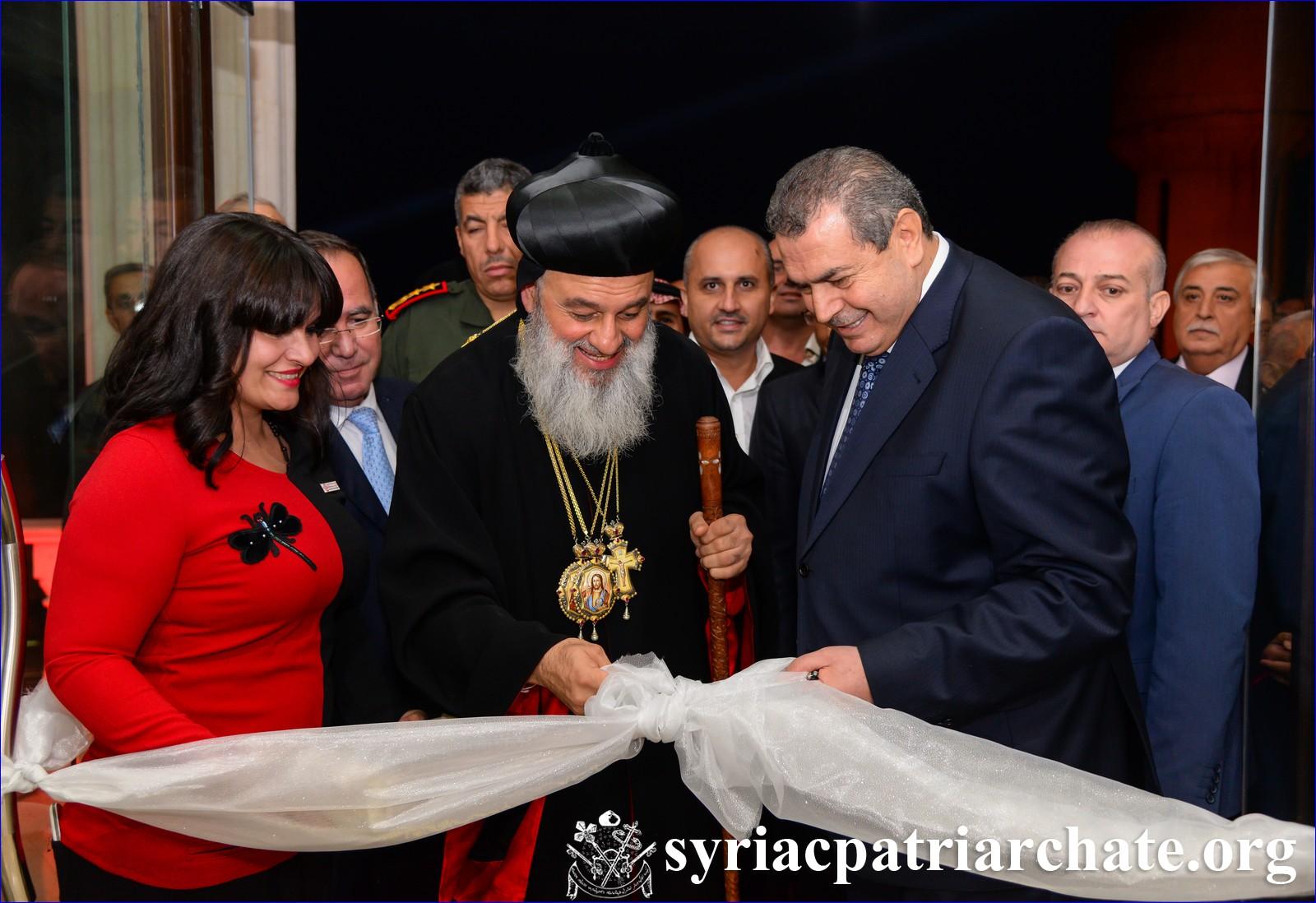 On November 6, 2018, as a milestone in the new history of our Syriac Orthodox Church, His Holiness Patriarch Mor Ignatius Aphrem II inaugurated the Antioch Syrian University (ASU), in the presence of His Excellency Dr. Atef Al-Naddaf, Minister of Higher Education in Syria, in ASU in Maarat Saydnaya.
The inauguration was also attended by Dr. Rakan Razouk, President of ASU, the Administrative and Academic staff, university students, in addition to a number of their Excellencies Ministers and members of the Syrian Parliament, as well as representatives of the political, cultural, and social bodies in Syria.
His Excellency and Eminence Cardinal Mario Zenari, Apostolic Nuncio in Syria, as well as their Eminences Archbishops of our Syriac Orthodox Church: Mor Theophilus Georges Saliba, Archbishop of Mount Lebanon and Tripoli, Mor Selwanos Boutros Al-Nehme, Archbishop of Homs, Hama, Tartous, and Environs, Mor Justinos Boulos Safar, Patriarchal Vicar in Zahleh and Bekaa, Mor Chrysostomus Mikhael Chamoun, Patriarchal Vicar in the Patriarchal Benevolent Institutions in Atchaneh, Mor Timotheos Matta Al-Khoury, Patriarchal Vicar in the Patriarchal Archdiocese of Damascus, Mor Timotheos Matthew, and Mor Maurice Amsih, Archbishop of Jazeera and Euphrates, attended the ceremony.
His Excellency Bishop Aphrem Maalouly of Seleucia, represented His Beatitude Patriarch John X of Antioch and All the East for the Greek Orthodox Church. A number of their Graces and Excellencies Bishops as well as priests of the various Christian Churches in Damascus also attended the ceremony, in addition to a number of Sheikhs, and the priests, monks, and seminarians of Mor Aphrem Theological Seminary, along with a crowd of people from our Syriac Institutions and the faithful of our Church, and representatives of the Syrian society.
Mr. Joe Lahoud, the Executive Director of Suboro Patriarchal TV, welcomed all at St. Aphrem Patriarchal Halls in St. Aphrem Monastery. He spoke about the aims of the gathering and the ceremony; then, he gave the speech to Mr. Ghassan Al-Shamy from Al Mayadeen TV, who gave a speech in which he congratulated the whole oriental world for this historical event. He considered that some wanted us to sit at the back, however, the opening of ASU today, reflects the fact that we have reserved the front seat. Mr. Ghassan also spoke about the historic educational role of the Syriac people especially in establishing universities and translating books. He also noted the principal role of Antioch in spreading Christianity as well as education and knowledge to the whole world.
His Holiness Patriarch Mor Ignatius Aphrem II, then, gave a speech in which he considered that "Syriacs had a head start in the establishment of schools and the educational facilities in the pre-Christian era. Each monastery became a center of knowledge, especially as it was our parents who developed the first alphabet. Thus, universities in many historical Syriac cities were established to spread knowledge, such as the universities of Nisibin, Edessa, Qinnshrin and Antioch". He noted that "Antioch was the capital of Syria in the Roman era, but has become a spiritual capital for all the Christians of the Orient"; he added, "we follow the footsteps of our Church fathers in opening ASU, so that we raise again the flame of higher education."
His Holiness then remembered the Late Patriarch Mor Ignatius Zakka I who worked hard to bring this idea into realization since 2007 and till his passing away.
He then thanked all those who helped in the establishment of ASU, especially His Excellency Dr. Bashar Asad, President of the Syrian Arab Republic, His Excellency Dr. Atef Al-Naddaf, Minister of Higher Education, and his assistants in the ministry.
His Holiness then spoke about the aspirations for ASU to be a center of education, which helps in developing the higher education sector in Syria, and becomes an important center for academic research, as well as to offer the best opportunities to its students.
He concluded his speech speaking to ASU students and assuring them that "we will try our best to ensure for you all means of success and excellence in your studies, so that each one of you becomes speaker on behalf of ASU, holds its values, spreads its principles, and boast in belonging to it".
Then, Dr. Rakan Razouk, President of ASU, gave a speech in which he assured that ASU will be an academic center that builds generations and supplies them with all means to make better future for this country. He also gave an overview about the university standards, and thanked His Holiness for all the efforts he put with all ASU team for the realization of this historic day. Dr. Razzouk also spoke to ASU students promising them to work with them for a better future.
A short video about ASU, prepared by Suborto TV, and a musical show were then presented.
Later, Dr. Bariaa Al-Qodsi, Vice President of the ASU Board of Trustees, gave a speech in which she spoke about the history and heritage of Antioch, which is the capital of the Christian Oriental Churches. She also spoke about the relation between Syriacs and Syria, and between Syria and Antioch. She assured that ASU will work hard to provide the best quality of education, and to be an academic center for all Syrian and non-Syrian students alike.
Student Nancy Al-Khoury gave then a small speech on behalf of ASU students. She spoke about the awaited future and the hopes and aspirations the students have for ASU, wishing that graduating from ASU, students will have acquired a high quality of education.
Finally, His Excellency Dr. Atef Al-Naddaf, Minister of Higher Education, gave a speech in which he congratulated ASU for its opening, and spoke about education and opening new universities as the strongest answer against all those who want what's evil for Syria. He also spoke about the history of governmental and private universities in Syria, especially during the Syrian crisis.
Later, all present went to ASU main building, where St. Aphrem Patriarchal Scouts played music for the occasion. His Holiness and His Excellency Dr. Al-Naddaf, then cut the ribbon officially inaugurating Antioch Syrian University. At the end, they made in tour in the university building.