Cologne Orders Armenian Genocide Memorial Removed
By Bar Daisan
Posted 2018-04-16 23:47 GMT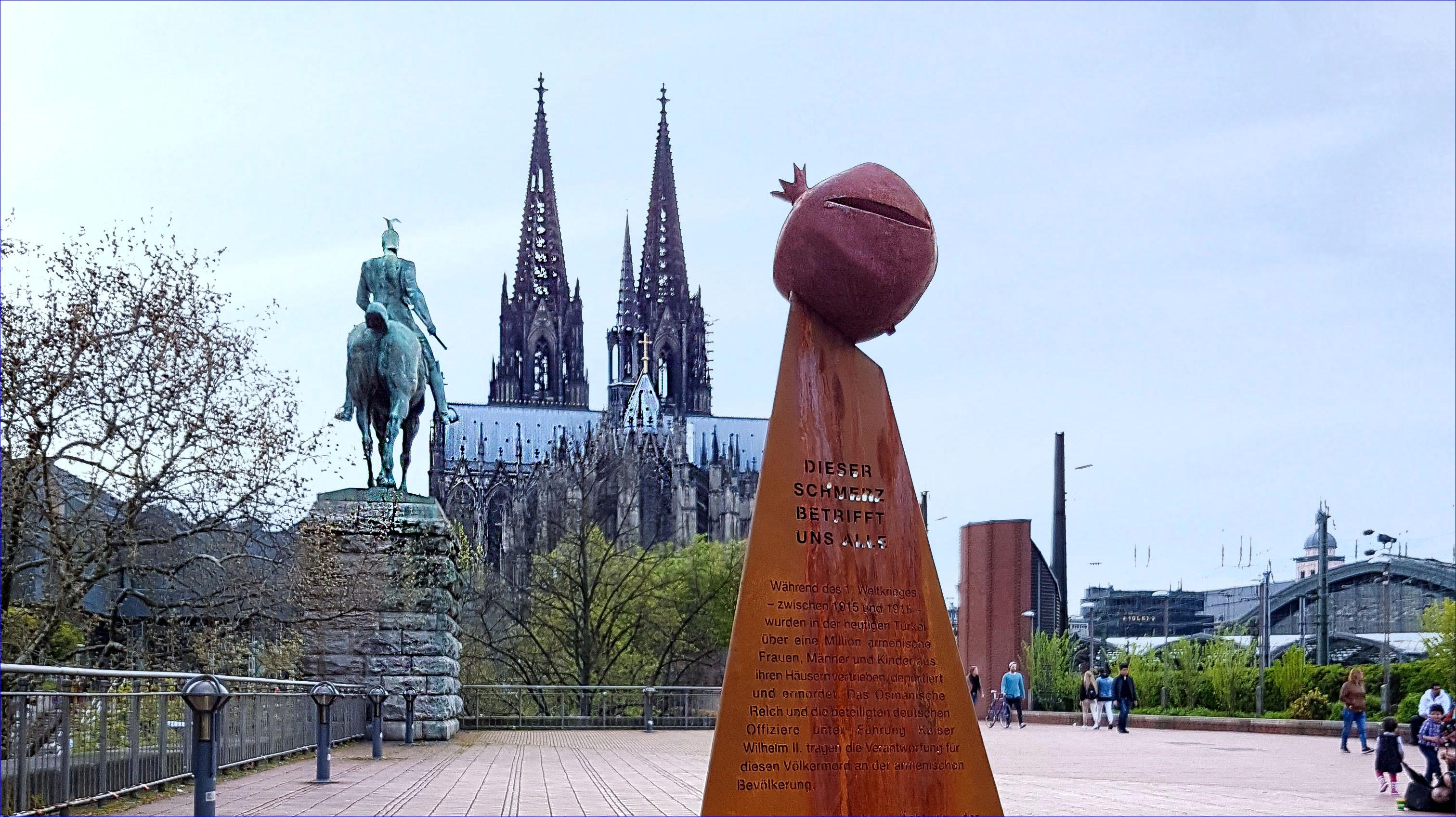 Cologne, Germany (AINA) -- A memorial dedicated to the 1915 genocide of the Armenians stands in a prominent place in the city of Cologne. According to Armenian portal Haypress, it is nationwide the first memorial in a public space to acknowledge the genocide, which was carried out with German participation.
Related: The Assyrian Genocide
The Turkish genocide claimed the lives of 750,000 Assyrians (75%), 1 million Greeks and 1.5 million Armenians.
On June 2, 2016 the German Bundestag passed a resolution recognizing the 1915 massacre of Armenians by the Ottoman government as a genocide (AINA 2016-06-06). The resolution also explicitly acknowledged that Assyrians and Pontic Greek were affected by the deportations and massacres as well.
On Sunday, the initiative Remembering Genocide unveiled a sculpture created by the Cologne artists Stefan Kaiser and Max Scholz on the left bank of the Hohenzollern Bridge in the city center. The Armenian community in Cologne is by its own account with 5,000 members, the largest in Germany.
The steel sculpture is about 1.80 meters high. The three-sided pyramid bears on the capped tip a bronze pomegranate with a notch, which symbolizes the Armenian genocide. The inscription entitled This Pain Affects Us All is written in Armenian, German, Turkish and English.
According to a decision by the City Council on April 16, the memorial must be removed "promptly." The reason given is that the action had not been announced to the city and had not been approved.
The city of Cologne pointed out that there is already a memorial stone for the victims of the genocide of the Armenians in Cologne. It is a cross-stone inaugurated in November 2017 at the cemetery Lehmbacher Weg in Köln-Bruck. The Armenian community however, does not regard the cemetery as an appropriate place for a memorial, as remembering must be done in a public space.
With a population over a Million, Cologne is also home for more than 60,000 Turkish migrants. The Armenian community suspects the city succumbed to pressure by Turkish organizations.