Kurdish Referendum Proves a Dividing Line for Communities in Australia
By Maher Mughrabi
Posted 2017-09-24 14:10 GMT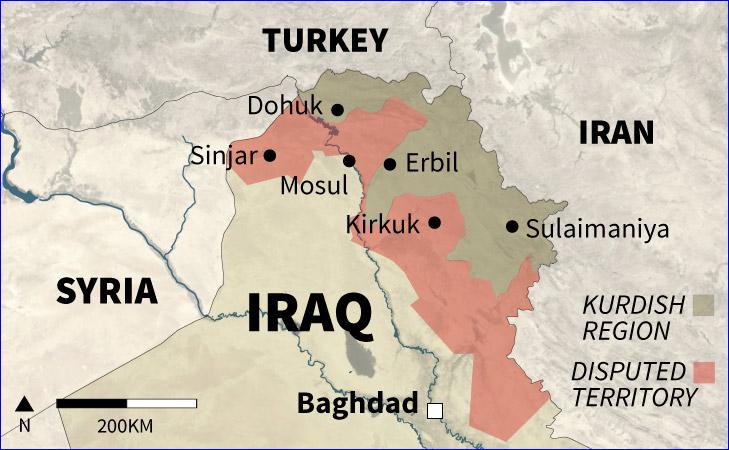 "Independence is the dream of every single Kurd."
In a food court in the Melbourne suburb of Epping, three Kurdish men are talking about the plans of Iraq's Kurdistan Regional Government to hold a referendum on independence on September 25.
When 62-year-old Selah Germian makes this ringing statement, his fellows nod their heads.
But they also agree on something more unexpected: they do not want the referendum to happen now.
In this they have some very high-profile supporters: both the White House and the United Nations have urged the KRG's president, Massoud Barzani, not to go ahead with the referendum, with Washington describing any vote as "provocative and destabilising" and UN Secretary-General Antonio Guterres saying it would detract from efforts to defeat Islamic State in Iraq. Iraq's highest court has declared the referendum should be suspended while its constitutionality is examined, and Iraqi Prime Minister Haider al-Abadi has warned that Baghdad may intervene militarily if tensions around voting lead to violence.
"The region is not prepared," Germian insists. "The KRG has a failed economy, a misguided oil policy and no transparency. One family [Barzani's] is controlling everything."
Shorsh Ali Ahmad, 54, who lived in Iraqi Kurdistan until 2004 and now hosts a Kurdish radio program here, points out that the region's parliament has been shut down since 2015 over disputes between the governing parties and the opposition, and that Barzani's term as president has been controversially extended.
"The referendum has no legislative basis," he says. "If we want a democratic future for Kurdistan, first we have to practise democracy."
(Since we spoke, the KRG's parliament in Erbil has held a snap session to ratify the referendum plan. But the opposition were absent, meaning only 68 of the 111 MPs voted.)
At a house in the neighbouring suburb of Wollert, I am welcomed by Samey Barwari, 56, from Dohuk in Iraq's far north, and his daughter Venwar, 31, who admits with a laugh that she came to Australia in utero. But when talk turns to delaying the referendum, her smile disappears.
"This is not a party issue," she says. "This is about whether we are going to govern ourselves. You have to start somewhere.
"The Iraqi government cannot govern itself - it is controlled by Iran. When their control of the country broke down [with the fall of Mosul to Islamic State in 2014], they came to us to fix it. We have issues, yes, but let us have them in our own country."
The elder Barwari has invited some friends over, and they remind me of Saddam Hussein's atrocities against them and his population transfers to "Arabise" Kurdish-majority areas, as well as the more recent failures of the "liberated" Iraq, which promised in its 2005 constitution that disputes over territory between the autonomous KRG and the central government would be resolved by the end of 2007.
"We have our own language, our own culture, our land is different," says Sulaiman Barwary (no relation), 48. "Arabs come from the desert and our land is the mountains."
The objections to their plans are shrugged off - Kurds are used to being under siege. "I would rather have a failed state than live under the Iraqi regime," says 52-year-old Farsat Dosky, a language consultant. "At least we can guarantee our existence - at least we can survive."
It is clear that Barwari is the senior figure. But he is not comfortable joining a busy discussion in English. He asks if he can tell me a story in Arabic.
He takes me back to April 1991, and the days after the Iraqi army's defeat in Operation Desert Storm.
"Forty thousand of Saddam's soldiers laid down their arms in [Iraqi] Kurdistan and we fed them and gave them vehicles for safe passage south," he says. "We don't bear enmity to anyone, not even those who killed us and burned our villages.
"If that situation had been reversed, not even 40 of us would have been left alive."
The world is used to hearing about tensions between Arabs and Kurds - or the desert and the mountains, if you will - in northern Iraq, but any Kurdish state there would have its own minorities, including the Yazidis and Assyrians.
Nicholas al-Jeloo, 34, an Assyrian Melbourne University academic who also works for the Bureau of Statistics, compares these populations to "powerless children" caught in a divorce. And he talks about another landscape: that of the disputed Nineveh Plains, with its patchwork of ethnicities and villages.
"The atmosphere in northern Iraq is claustrophobic," he says. "The [ruling] KDP is drunk on a lethal cocktail of Baathism, Zionism and Kemalism, and people live in fear of the Asayish [the KRG's internal security force].
"What will happen to those in minorities who vote against independence? Will they be told to go to Iraq? The president of Iraq is a Kurd, the Kurdish language is recognised and appears on Iraq's currency ... do we really need more Balkanisation?"
Al-Jeloo is not the only one who sees echoes of Zionism in a unilateral referendum. The father of Zionism, Theodor Herzl, famously said that "if you will it, it is no dream", which was aspirational but can also be read as a warning: once you move from political theory to action, you are confronted with the realities of your locale. A people's political status may change, but its geographical neighbours remain the same.
One of the mothers at my son's school spent the first 30 years of her life in Dohuk but is not Kurdish. When I tell her about my interviews, she exclaims: "I swear that until 1991 I didn't know what an ampere was. Then I became an expert in how much you can do with two or four amperes of electricity. It is 26 years [of Kurdish autonomy] now and my little town still doesn't have reliable power or water. How can you talk about independence when the basics are not there?
"The north is landlocked," she reminds me. "Don't they [the KRG] see what happened to Qatar, which is a proper state?"
Most of the Kurds I talk to do not believe that a 'Yes' vote will mean independence in the short term. But when I tell Samey Barwari that I worry about a blockade or about Kurds being forcibly displaced to "their" state by surrounding governments, he puts his faith in a surprising ally: Turkey.
For some years now, the KRG has been selling oil through a pipeline to Turkey under a 50-year deal signed with Ankara.
"There are 700 Turkish companies in the Kurdish region," he tells me. "That door will not close because billions of dollars keep it open."
The Kurds opposed to a referendum are troubled by this "door" in particular, with the increasingly authoritarian Recep Tayyip Erdogan at one end and Barzani and his family - who also hold the posts of prime minister and security council chief - at the other.
"Why hasn't there been freedom in Kurdistan?" asks Dilawar Munzir, a 52-year-old from Sulaimaniya who works, like Samey Barwari, as a painter. He says his home town has been targeted with sanctions for dissent against Barzani, and he points to the murder of Kurdish journalists critical of Barzani's regime and its corruption, such as Sardasht Osman and Soran Mama Hama.
"This will be Massoud Barzani's referendum, not the people's referendum," he says.
Al-Jeloo is also sceptical. "It is naive. Do people believe that the same Turkey which is destroying Kurdish-inhabited towns in its south-east can somehow be trusted to deliver Kurdish independence elsewhere?"
He wonders if the whole referendum isn't just "hot air", designed to give Barzani and his KDP a boost in forthcoming regional elections.
"We don't want to be a backyard of Turkey," Germian says. "We could end up like [the unrecognised Turkish enclave of] Northern Cyprus."
The referendum's supporters are fatalistic. Sulaiman Barwary reminds me that for decades "Lebanon was governed by Syria like a puppet ... maybe Turkey will play this role with us for a while".
Mayda Ziabari, a 25-year-old born in northern Iran, admits she is troubled by the vote's timing and worried that things will not "happen properly".
"I'm not sure we should be alienating our key ally," she says, referring to Washington, which arms the KRG and provides it with billions in aid. "Also Daesh [IS] is still there - we haven't dealt with that."
But for her the governance issue is less of a concern: "I have faith in my generation and the next generation there."
It is a remarkable fact that almost all the Kurds I talk to remain closely connected to their homeland. But they are also divided by region, by political allegiance and even by dialect, with Badini speakers in the KRG's north favouring independence and Sorani speakers in the south more cautious. In the event of independence, which of these many wires of identity might prove to be live? South Sudan and East Timor have shown that nationhood is no panacea.
I ask Venwar Barwari if she is excited that the referendum will happen. "Yes," she says. "We were raised on events that happened in our elders' time ... now we will have a chance to do something ourselves.
"It is our time."