Kurds and Assyrians Fight Back Against ISIS in Syria
By Jordan Allott
Posted 2015-11-19 23:01 GMT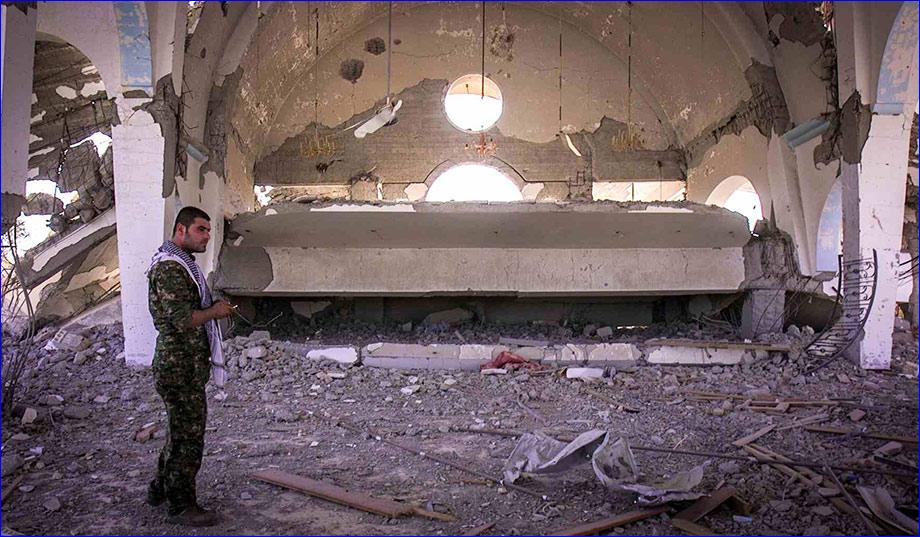 'ISIS asked us for a cease-fire two days ago," Kino told me. "They asked us for a safe pass out of Hasakah. The forces here refused to do that, because we want to finish them." My translator, an Assyrian American named Helma Adde, stood with me and Kino Gabriel, the 24-year-old spokesman for the Assyrian Christian army of the Syriac Military Council. We were in the city of al-Hasakah, near the banks of the Khabour River and about 700 meters from the front line of the Islamic State in eastern Syria. For all the doubts that the West has about the war in which he is fighting, Kino was optimistic about how the battle is going in this neighborhood. "Some of our forces have made it to the mountain and have surrounded ISIS in Hasakah," he said, pointing past the Islamic State positions, toward a towering hill far to the southwest of the city. "I think within two weeks they will be surrounded completely. We will begin an offensive from inside Hasakah and outside to overwhelm them. We hope in one month it will be over here." It surprised me to see a thousand-man Christian army fighting alongside Kurdish YPG (People's Protection Units) forces on the front lines against the fanatics of the Islamic State. It's not that I had been unaware of the Syriac Military Council (abbreviated MFS) -- I had actually written about them previously. But this was not the sort of operation that they would be allowed to participate in, a front-line fight in peshmerga-controlled Iraqi Kurdistan. In Syria, Christians and Kurds fight in collaboration, but independently. Kino and his men view themselves as the protectors of those few who dared stay behind in a town with a rich Christian history and a large Christian minority. In fact, many take perpetual vows to protect and preserve the Assyrian national identity. Hasakah is home to nine churches, in addition to roughly 40 mosques. ISIS units reached Hasakah in August 2014, during the group's sweeping offensive into northern Iraq, advancing into the town's outlying neighborhoods. But they never took the city, which was divided into three sections: one controlled by ISIS, another by Assad's Syrian army, and a third by YPG and Syriac forces. ISIS fighters had initially carved out neighborhoods in Hasakah but were gradually losing ground by the time I arrived in July. On the outskirts of Hasakah are 35 Assyrian Christian villages that had been occupied by the Islamic State in February 2015. Hundreds of their inhabitants were killed or kidnapped, some of them later becoming the subjects of typical ISIS-execution videos. A few months later, ISIS fighters were driven out, but reminders of their presence abound. A scorched-earth policy is one of their calling cards, and that includes the placement of land mines to target enemies and returning civilians. Helma and I are escorted to one of these villages, Tel Nasri. ISIS tried to demolish two churches. It had a lot more success in destroying St. Mary's, the newer, larger one. All that's left standing are the large pillars that once held up its roof. The dome lay on its side, amid the ruins, with some church items scattered about -- a priest's vestments here, an altar curtain there. The walls of the church recreation center were bullet-pocked, once used by Islamic State fighters for target practice. As we navigated through the debris, we were warned to "stay away from unfamiliar looking objects on the ground" -- meaning mines, of course. I carefully stayed within the footpath of my Assyrian guide. These mines will probably continue to kill and maim many residents long after this war is over. One man we spoke with returned to his home to find an IED in his refrigerator. Luckily the explosive didn't detonate when he opened it. "We have been able to remove a lot of these mines," Kino said. "Of course, a lot of them are still there." Taking a break from the severe midday heat with a dozen or so villagers, Helma and I listen to the men as they diagnose Syria's multitude of problems and how the rest of the world is responding.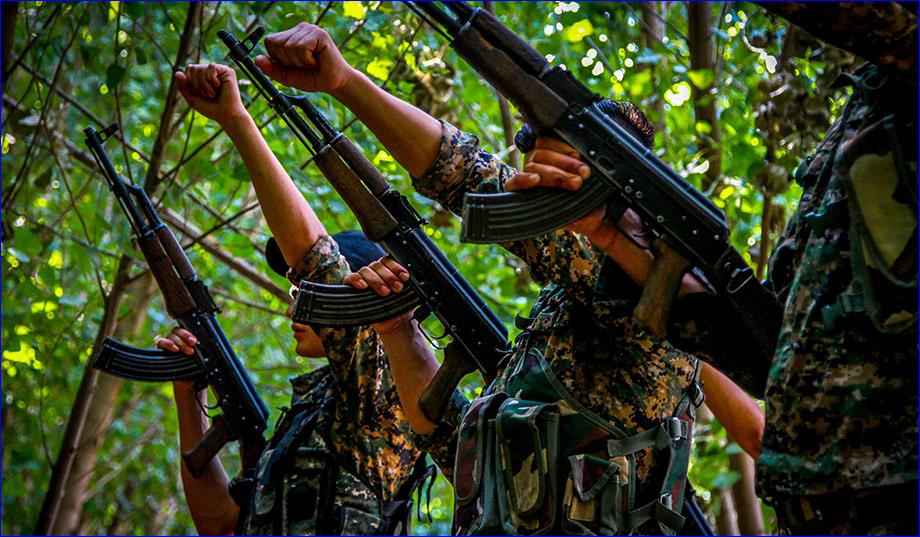 One of the villagers, David, told us, "We would like to move back into our homes and to bring our families with us, but we are afraid." Some shied away from on-camera interviews for fear of reprisals -- some had family members who are among the 200-plus hostages in ISIS captivity. One man had several family members abducted by ISIS, including his four children, his wife, and his parents. They needed to worry about their own safety, too. Perhaps they had their homes back for the moment, but how long would that last? Back in Hasakah proper, we visited a few different frontline outposts. The first was an old abandoned Baathist primary school, where Syriac fighters were posted, crouching down on a rooftop with short walls on each side. We look out through a hole in the wall at ISIS positions less than 500 meters away. We heard the call to prayer, ominously bellowed in the distance, then shots from the ISIS side -- apparently an attempt to discern whether there was anyone facing them from ours. The soldier on our rooftop, a young Assyrian with a dark beard and a red bandana protecting his face from the intense sun, obliged by firing his Kalashnikov back. The shots were aimed at no one in particular, just fired to confirm his presence. In the apparent absence of air power and artillery, this seemed to be part of the psychological game. Kino, for his part, admitted he had always dreamed of a soldier's life. At the same time, he said, he understood well his people's history of relying on others for protection. Historically, Assyrian Christians have preferred adapting to the political conditions around them over taking up arms. This has changed, Kino explained, because of what happened to their people in Iraq during the period following the 2003 invasion. "In Iraq, in Turkey, in other places in the Middle East where the Syriac people exist, no one defended us, even though we got a lot of promises," he said. "In the end, each component, each people, each person prepared themselves to defend themselves, and they left the Syriac people alone. So we knew that we needed to have our own power in order to be able to defend ourselves." This is why the Syriac Military Council was officially established in January 2013. A year later, in January of 2014, I traveled to its headquarters in al-Malikiyah with writer Andrew Doran to learn more about the militia. We crossed into Syria from Turkey, on foot and under cover of darkness. Since that time, the fledgling MFS has grown by hundreds and has suffered the loss of its first martyrs.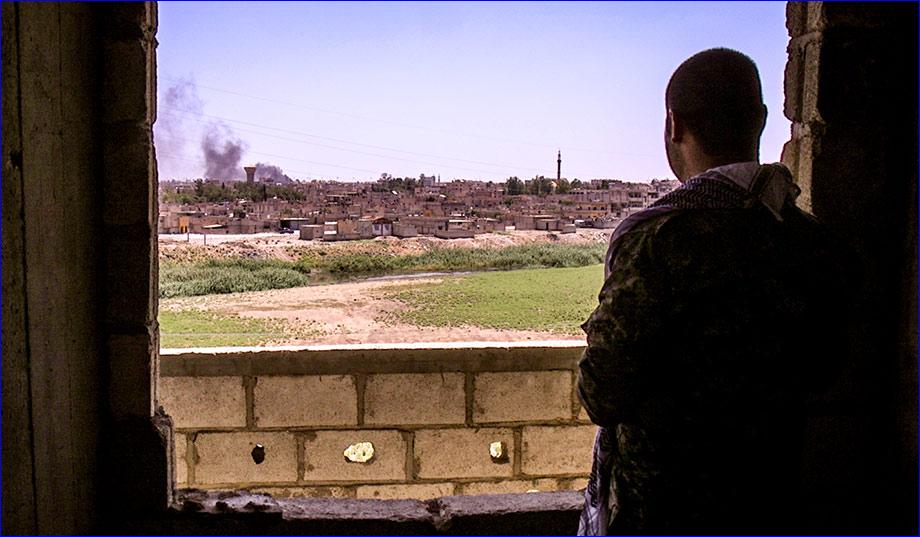 Training of new recruits was ongoing, but an increase in resources and, in the eyes of local Christians, legitimacy has helped strengthen MFS's appeal to young Christian men who would sooner fight for MFS than for the Assad government, which is still trying to enforce compulsory military service, even in areas it does not control. Kino estimated that his fighting force now consists of close to 1,000 trained men and 200 women. It is small compared with other armies in the area, but well trained and capable of handling its own stretch of the line. "We try to have and build relations with all the forces that are active in the area here," Kino said. "At the beginning, we established some relations with some battalions of the Free Syrian Army in the area here and, along with them, with the [Kurdish] People's Protection Units," or YPG. This is part of the Assyrians' long game. Today's military alliances, he said, are not just about winning in the current conflict. Their purpose is also to establish "good relations with our neighbors -- Arabs, Kurds, other people who are living here," so that Assyrians have friends going forward after the war is over. The situation, however, is extremely complicated and always evolving. The YPG receives support from the U.S. government. At the same time, Turkey, a U.S. alley, has been accused of attacking the YPG in northern Syria and is currently engaged in a conflict with the Kurdistan Workers' Party (PKK), a separatist group, in Turkey, that is ideologically and strategically aligned with the YPG. At the moment, ISIS is the common enemy of the Assyrians and the Kurds who fight nearby. These allies confronted the Jabhat al-Nusra front in Tel Hamis in the fall and winter of 2013, and finally took back that city in late February 2015. Around the same time, Assyrian forces intervened to defend the Christian villages of the Khabour area from ISIS attacks. "It was one of the most important battles for us at that time," Kino says. "It was mostly a personal battle for us, as we had fighters from this area." The relationship of the Assyrian fighters with the Kurds has not been perfect. Another Christian Assyrian militia, not affiliated with the Syriac Military Council, quit the battlefield in June, bitterly accusing the Kurds of a conspiracy against Assyrians. But for MFS, the alliance with the Kurds has worked quite well in fighting ISIS and al-Nusra, all the while managing the difficult situation between the Assad government and the Free Syrian Army that once aspired to overthrow it. The commander of the Syriac forces in Hasakah, Orom Qamishlo, said that the Assad regime might as well be officially aligned with the Islamic State, for all the help it has provided. "They are the ones that bring ISIS in," he explained, describing how treachery within the ranks of the Syrian Army had helped the Islamic State fighters advance as far as they had into Hasakah. "We want to launch attacks on ISIS, but the army of the regime does not allow us to. They have contracted different outside militias, some of which are sympathetic to ISIS, and allowed them to enter and loot homes." Five days after our conversation, Orom was seriously injured in an ISIS attack, but grateful to survive. And not long after I left the area, Kino's predictions of an imminent victory over ISIS was realized. Kurdish and Syriac forces finished driving the Islamic State out of Hasakah in August. As they advanced, they also seized the areas formerly controlled by the Assad regime, depriving its armies of any glory or credit. Displaced families that had fled to cities such as Qamishli, an hour northwest of Hasakah, began returning to their homes. Unfortunately, though, that was not the end of the story. ISIS, now about three kilometers away, began a new round of attacks on Hasakah one month after being defeated. Attacks and car bombings in YPG-controlled areas have left dozens dead. And so as the West ponders how to handle Syria, and Russia plunges in on Assad's side, the small Assyrian population must keep fighting for its home and its continued existence.
Jordan Allott, a documentary filmmaker and founder of In Altum Productions, is in post-production on his new documentary, Our Last Stand, which documents the plight of Christians in Iraq and Syria. He lives in Vienna, Virginia.