ISIS Captures 250 Assyrians in Syria
Posted 2015-08-07 21:49 GMT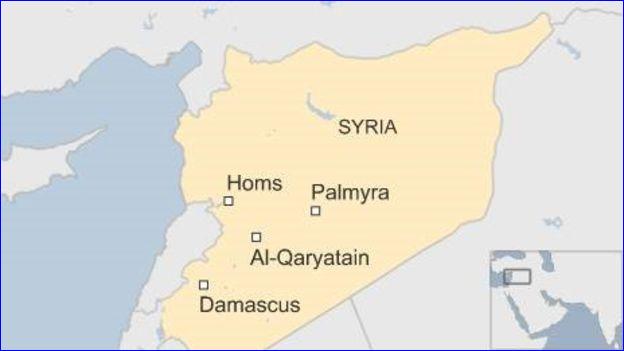 (AINA) -- According to reports from human rights groups and observers, ISIS has abducted between 150 and 250 Assyrians from the town of Qaryatain, which fell to ISIS yesterday. Qaryatain is near Homs.
According to a press statement from the Syrian Orthodox Archdiocese of Homs, 250 Assyrians were captured by ISIS, including women and children. A number of them were captured at the Syriac Catholic Mar Elian monastery.
The Assyrian Federation of Sweden is reporting that 100 families are being held. If this is true, this would make the number of abducted much larger than 250.
ISIS has reportedly created a list of individuals to be kidnapped because they are "collaborating" with the Syrian regime.
More than 1,500 people have fled Qaryatain Since fighting started on August 4.
Related: Attacks on Assyrians in Syria By ISIS and Other Muslim Groups
On February 23 ISIS attacked the 35 Assyrian villages on the Khabur river in the Hasaka province, capturing 253 Assyrians and driving 3,000 from their homes. It subsequently released 25 Assyrians, but 228 remain in captivity. All the villages have since been liberated but very few Assyrians have returned.
It is estimated that 600,000 Christians have left Syria since the war began.