Syriac Orthodox Patriarch Calls on Youth to Defend Their Lands in Syria
By Bar Daisan
Posted 2015-07-03 00:38 GMT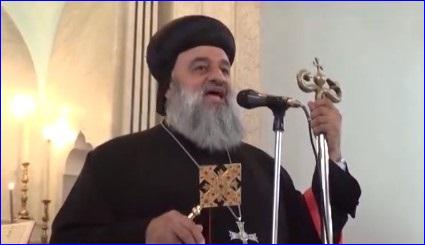 Qamishli, Syria (AINA) -- The Patriarch of the Syriac Orthodox Church, Ignatius Aphrem II, arrived on Saturday, June 27th in Qamishli to receive and encourage the thousands of Assyrians who have fled from Hasaka. The Patriarch made a call to the youth to return and defend Hasaka in light of the difficulty that the Syrian government has in protecting their civilians in the civil war.
See Attacks on Assyrians in Syria
The following speech was delivered by the Patriarch at a church in Qamishli.
Recently, over 100 young men have returned to Hasaka to defend the city. We are grateful and wish to thank the 100 youth for listening to our advice and for protecting our homes in the city of Hasaka. And we wish to thank especially the youth of Qamishli who, with love and joy, have received the internally displaced people in their homes and especially to those who have opened their hearts, homes, and the doors of the churches who have shown hospitality to their brethren.

At the same time, we are very grateful to our young volunteers who are members of the militias, who carry arms to defend and fight for your homes and city. May God bless and protect them. We honor the martyrs who have passed in defending our land and the heritage of our forefathers, who were present here before Islam and the Byzantine Empire. For this reason, we need a strong will because the will to survive exceeds the fear of death.

We do not need to listen to ISIS and other extremists who try to scare us. Their goal is to instill fear within us at the mere sound of their name. We should never be afraid due to the reason of bloodshed. We should always be ready to defend ourselves and our lands.

We also want and pray that the Syrian Army is able to protect us all, but because of the severity of the war they are not able to protect us in the way that is necessary. We know it is wrong that each person carries arms. We are not the type of people who want to carry weapons, but because the army is not able to protect us, it is imperative that we find another solution.

For this reason, when we see our youth carrying weapons and protecting our homes and lands, we give them our blessing and do not question their actions. We continually ask God to bless and protect them.

Our goal is not war, rather justice. Our goal is to protect ourselves under the severe circumstances.
Speech translated by Demand For Action.