ISIS Bombs Assyrian, Armenian Churches in Syria
Posted 2015-04-29 19:18 GMT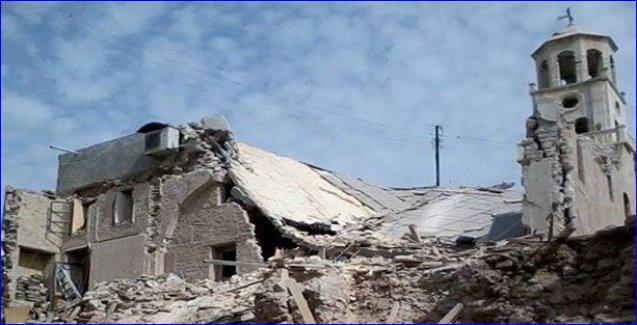 (AINA) -- According to reports from Syria and also the Turkish press, ISIS has bombed two churches in Syria, the St. Odisho Assyrian Church in Tel Tal and the St. Rita Tilel Armenian Church in Aleppo. The churches were bombed yesterday.
Located on the Khabur river in the Hasaka province in Syria, Tel Tal is one of the 35 Assyrian villages that was attacked by ISIS on February 23. ISIS captured nearly 300 Assyrians in those attacks and subsequently released 23, all from the village of Tel Goran. The remaining Assyrians are still being held captive.
See Attacks on Assyrians in Syria By ISIS and Other Muslim Groups
The entire Assyrian population of these villages, nearly 3,000, has left their homes and are expected never to return. Some have already emigrated to Lebanon. Most are living in Hasaka or Qamishli and are planning to leave Syria.