Unconvincing ISIS Video Shows Assyrian Captive Converting to Islam
By Ariel Cohen
Posted 2015-03-25 22:48 GMT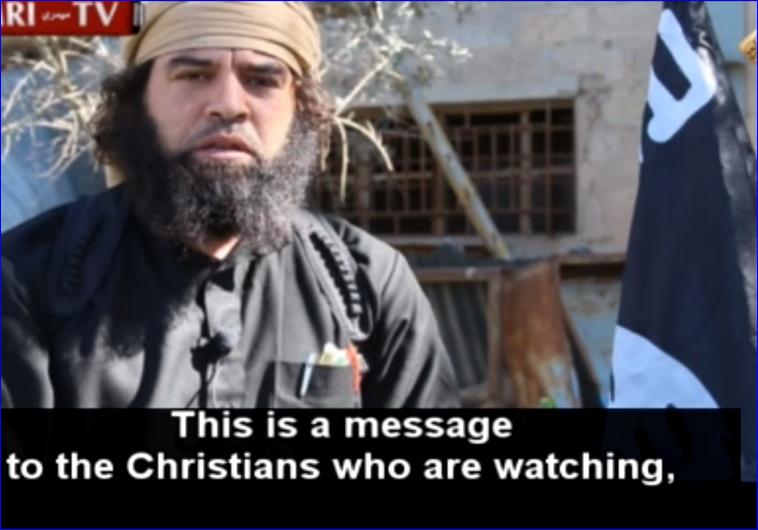 The Islamic State has been known to produce high quality propaganda videos in the past year, with special effects and convincing narratives, but their latest video, supposedly depicting the conversion of a captured Assyrian, is far from believable.
In the video, an ISIS member introduces a captured Assyrian Christian, who was likely among the 220 Christians kidnapped from Northern Syria in February.
"This is a message to the Christians who are watching and especially the Assyrians captured in the recent raid, by the Islamic State. I address the Christians mobilized by the Jews and the servants of the Cross, who claimed that the Islamic State and its soldiers seek to kill and slaughter," The jihadi said to the camera. "We say to them: Listen to what we have to say and not what is said about us."
Islamic State militants have abducted at least 220 people from Assyrian Christian villages in northeastern Syria during a three day offensive, a monitor that tracks violence in Syria said in February. Since then, they have released roughly twenty of the Christians, but the rest remain in captivity.
The video then cuts to the captive, who was likely captured as part of that raid, and who the jihadi upholds as an example of the Islamic State's positive influence. The captive sits on a stoop, looking nervously into the camera. The jihadi explains that the man was once an "armed Christian" but has since converted.
"I would like to tell my people and to all the Christians that I have converted to Islam and become one of them," the captive said in a blatantly forced and uncomfortable tone. " If only all the Christians would convert to Islam, rather than be a polytheist. I wish they would join the religion of Islam."
When asked by his captors if he forcibly left Christianity, the captive replies that he converted out of conviction, and was not forced at all.
The captor then goes in for an awkward hug as a sign of friendship or brotherhood, but it looks like a painful ordeal for both parties involved.
Finally, with a nervous grin on his face, the captive holds up his pointer finger towards the heavens and proclaims, "I attest that there is no other God but Allah and that Muhammad is his messenger."
An unidentified source told ARA News the militants filmed the video "in the village of Tel al-Jayer."
"The Islamic State is holding Assyrian abductees in this village following sudden attacks on Tel Temir's surrounding villages by the Kurdish fighters and allies last February," said the source.