Iraq Officials Denounce Islamic State's Destruction of Ancient Assyrian Site
By Tamer El-Ghobashy
Posted 2015-03-06 19:58 GMT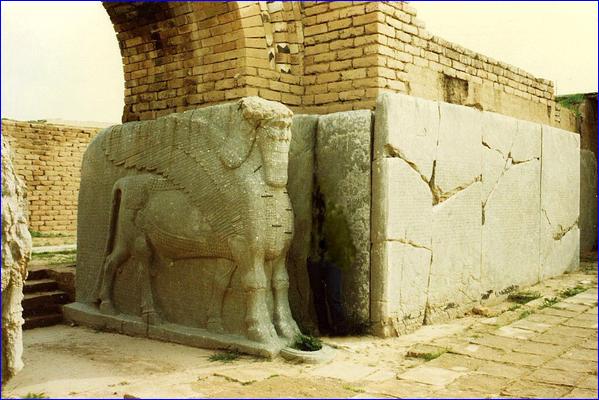 BAGHDAD -- Iraq officials and lawmakers denounced Friday the destruction of the remnants of a 3,000 year old city by Islamic State militants, with one parliamentarian calling for urgent international military intervention to save the trove of archaeological treasures.
Iraq's Ministry of Tourism and Antiquities said Thursday the militants had "bulldozed" the ancient city of Nimrud using heavy military equipment. Islamic State didn't immediately claim responsibility.
The announcement comes a week after Islamic State released a video showing their fighters destroying ancient Assyrian artifacts in a museum in Mosul, about 18 miles (30 kilometers) from Nimrud.
"The current situation is linked to a military solution only," Qassim al-Sudani, a ministry spokesman said Friday. "This is the responsibility of the whole world after [Islamic State] has proved that it fights the past as much as it fights the present."
"The international coalition should have conducted airborne operations in Nineveh province to stop ISIS from committing such crime," said Haneen al-Quadoo, a parliamentarian from Nineveh province, where Nimrud is located. He was referring to a U.S.-backed force that has conducted limited airstrikes against Islamic State targets in Iraq and Syria since last August.
The U.S. has reserved such air power to instances where major infrastructure has been threatened or in cases of extreme humanitarian need, which has included protecting Iraq's small religious minority groups.
"[Islamic State] aims to wipe out civilization in this country," Mr. al-Quadoo added.
On Friday, the United Nations Educational, Scientific and Cultural Organization labeled the alleged demolition of the site a war crime.
"We cannot remain silent," said Irina Bokova, head of Unesco. "The deliberate destruction of cultural heritage constitutes a war crime. I call on all political and religious leaders in the region to stand up and remind everyone that there is absolutely no political or religious justification for the destruction of humanity's cultural heritage."
Prosecutors in the International Criminal Court have supported a call by Iraqi authorities for an emergency session of the Security Council to address the incident.
The city, founded more than 3,300 years ago, served as the capital of the Assyrian empire and contains a trove of artifacts from the early Mesopotamian civilization.
Faced with recent losses on the battlefield, Islamic State has stressed its attacks on Iraq's antiquities, which they consider idolatrous and are a cornerstone of the nation's identity.
The group, which targets Iraqi and Syrian religious minorities and fellow Sunnis it labels apostates, has called the artifacts relics of an age of idolatry.
In a video broadcast last week, militants claimed to have ransacked Mosul Museum, taking sledgehammers to Assyrian artifacts it called "idols that were worshiped in the previous ages."
The video was condemned world-wide and provoked Iraqi officials to reopen the closed Iraq National Museum in Baghdad in a move they described as directly defiant of Islamic State's "crimes" in Mosul.
Mr. al-Sudani said Iraq's preservationists are incapable of protecting the historical artifacts as long as militants remain in control of Mosul. He pleaded for international support.
"We have no way to reach there to protect the archaeological pieces," Mr. Sudani said. "What ISIS did in Nimrud city is considered as a big loss to humanity in general. It is the loss of a national treasure."
Iraqi military officials have considered the liberation of Mosul a priority since it fell to Islamic State last June in a sweeping offensive that put large regions of Iraq under militant control.
The military, supported by Shiite militias and Iranian advisers, has undertaken the largest campaign to date to uproot the militants from Tikrit in an operation that officials have said will serve as a model and test of Iraq's ability to take on the insurgency in the much larger city of Mosul.
"At stake is the survival of the Iraqi culture and society," the U.N.'s Ms. Bokova said.
Ghassan Adnan contributed to this article.