Chicago Assyrian Community Rallies for Immigration Attorney
Posted 2014-12-11 21:45 GMT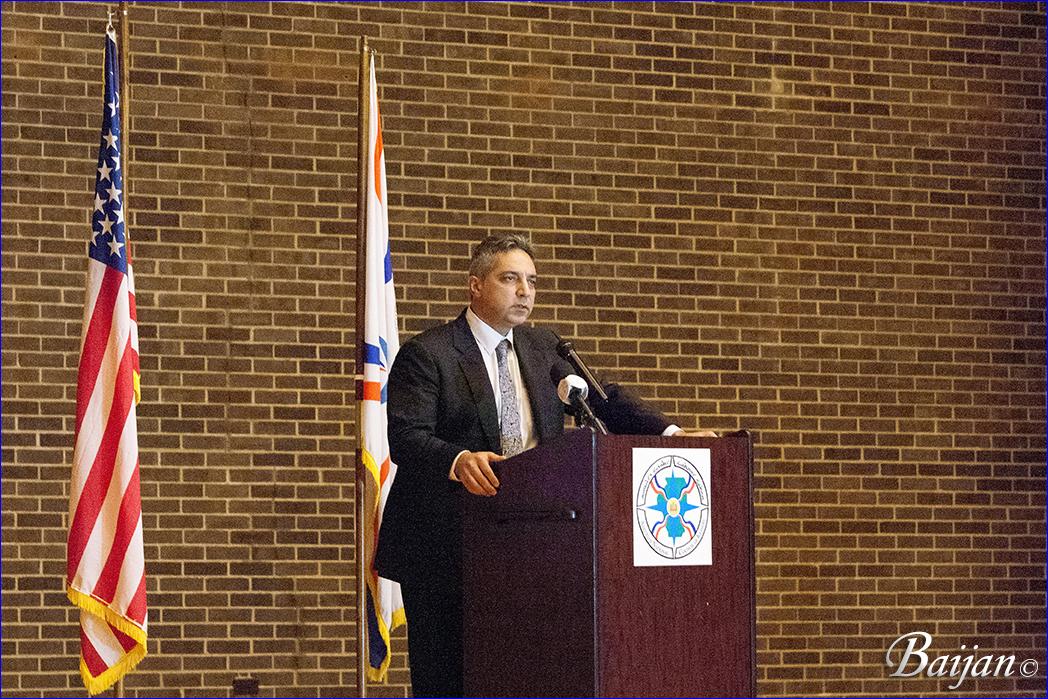 (AINA) -- Over 1,500 Assyrian-Americans gathered at the Assyrian National Council of Illinois (ANCI) Building in Skokie, Illinois this past Sunday in support of two community members recently indicted on federal immigration fraud charges. Chicago-based Assyrian-American attorney Robert DeKelaita and interpreter Dr. Adam Benjamin were arrested on September 23, 2014 related to their efforts to secure political asylum for Iraqi Christians. They have been accused of falsifying accounts of Christian persecution at the hands of Islamic extremists in Iraq.
The allegations have sparked outrage throughout the Assyrian community, as they are seen as being oblivious to the current plight of Iraqi Christians. Since the indictment, community members have organized and launched a website titled Stand with Robert to gain support for both long-time advocates for the Assyrian Christian population of Iraq.
The event featured a number of speakers, including ANCI president, Sheba Mando, president of the Chicago chapter of the Assyrian Aid Society, Margaret Khamo, Rev. Fr. Gewargis Sulaiman, and His Grace Mar Gewargis Younan. DeKelaita and Benjamin were both in attendance, joined by their families. DeKelaita ended the night with a touching speech, thanking the community for their continued support. His attorney, Bill Murphy, also addressed the audience, stating, "Robert, I am proud to represent you." An emotional DeKelaita was welcomed to the stage with a standing ovation.
Attendees expressed deep concern throughout the evening, particularly when it was revealed that a federal immigration judge had issued an order just two weeks ago stating that here is no persecution of Christians in Iraq. Hanna also drew angry remarks from audience members when she noted that the twelve cases in question were all Iraqi Christian cases.
Attendees were encouraged to help spread the word and encourage others to take a stand on the matter. The community has petitioned Attorney General Eric Holder, requesting the charges against these two men be dropped. The petition has gathered nearly 3,000 signatures to date.

DeKelaita is a prominent immigration attorney, one of the very few in the nation who specialize in Iraqi Christian cases. Khamo described him as "an attorney who knows exactly what [Iraqi Christians] have endured. An attorney who knows the dire situation they are in. An attorney who is not foreign to that part of the world. He is their light at the end of a long, horrid tunnel." Benjamin is a beloved activist and community leader that has worked alongside DeKelaita for years. Both men have traveled to Iraq in the past to lend their personal support and assess the situation. Their advocacy work has stretched beyond the courtroom, driving local community projects and humanitarian efforts.