October 4 Report on North Iraq -- Yazidis Still Trapped on Sinjar, Patients Expelled From Hospitals
Posted 2014-10-08 19:38 GMT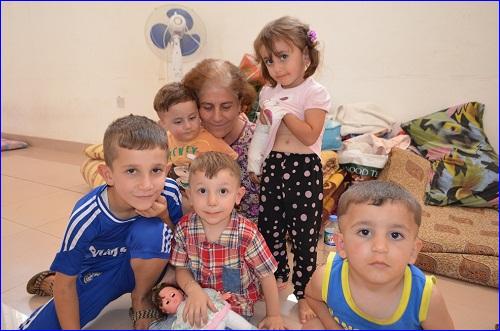 (AINA) -- The Hammurabi Human Rights Organization has issued its latest report, dated October 4, 2014, on the situation in North Iraq.
ISIS has forced government and private hospitals in Mosul, as well as health centers in cities and other towns it controls, into releasing patients staying there. Observers believe the move is aimed at emptying health institutions to make room for wounded ISIS fighters.
The number of checkpoints and patrols by ISIS has risen dramatically in Mosul and in the suburbs.
A Christian family of five arrived in Arbel from Mosul and reported that ISIS forced them to change their Iraqi identity cards to the so-called "Islamic State" IDs.
The number of of patients visiting health clinics and centers in the Dohuk Province has risen to more than 550 patients per day versus 150 patients per day before June 10, 2014.
ISIS continues to burn Yazidi houses in villages and towns occupied by the them. ISIS targeted a number of Yazidi villages surrounding Mount Sinjar, where they stormed the village of Kahbal with eight armored vehicles and burned the houses. This was done during the day and there were military aircraft over the area.
Fierce fighting took place on Friday, October 3, 2014, between ISIS and Yazidis in the village of Cabara, southwest of Sinjar. The battle resulted in the death of ten terrorists and three Yazidis.
Yazidi fighters have appealed to the Iraqi government to accelerate air support and delivery of weapons and gear, warning that the may not holdout long in areas they are defending if the supplies to help their resistance do not reach them in time.
The siege on Mount Sinjar from continues. There are more than 500 families remaining there and they have nearly exhausted the relief aid. The situation for these families is critical especially because for the past 5 days the open passage which transported aid to mount Sinjar has been closed.
See all HHRO reports.