Fear After ISIS Captures Three Towns in Iraq, Moves Into Assyrian Town
Posted 2014-08-04 10:02 GMT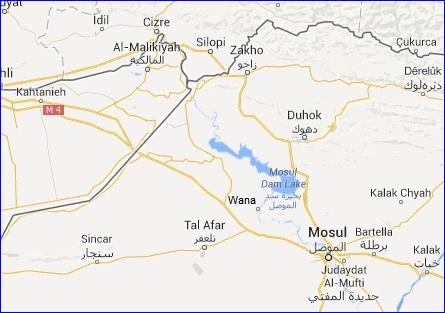 (AINA) -- ISIS made significant gains in Iraq on Saturday and Sunday, capturing the towns of Sinjar, Zumar and Wana, as well as the largest dam in Iraq, north of Mosul. After a fierce battle with Kurds which that lasted for two hours ISIS captured Zumar, inflicting heavy losses on the Kurds. According to a Reuters report, Kurdish troops did not defend the dam but fled with their belongings. In Sinjar, Kurdish troops put up little resistance, according to witnesses.
After ISIS captured the towns of Sinjar and Zumar it began to brutally terrorize their residents, nearly all of whom are Yazidis. Nearly 40,000 Yazidis have fled from their homes and thousands have been killed. The world leader of the Yazidis, Prince Tahseen Said, has issued a distress call (AINA 2014-08-04).
There is renewed fear in the Assyrian town of Baghdede (Qaraqosh), 20 kilometers miles east of Mosul, where nearly all of the 50,000 residents fled 10 days ago. About 80% have since returned. ISIS is now building earth barricades 500 meters directly across from the Kurdish forces stationed 1.5 kilometers east of the city, using five heavy bulldozers. If ISIS and Kurds clash again it is nearly certain that the residents will flee again.
ISIS troops have now arrived in the Assyrian town of Tel Kepe, 22 kilometers north of Mosul, causing fear among the residents. Some residents of the village of Batnaya, 8 miles north of Tel Kepe, have already begun leaving, heading north to Alqosh and Noohadra (Dohuk). 118 kilometers north of Mosul, in the village of Zakho near the Turkish border, the Assyrians are in a state of heightened anxiety, uncertain of their safety and security.