Gunmen Attack Christian Wedding in Egypt, 3 Killed, 18 Injured
By Mary Abdelmassih
Posted 2013-10-20 23:29 GMT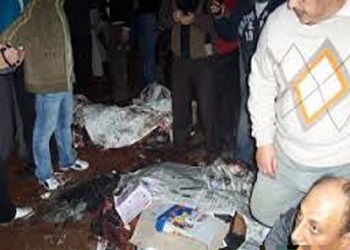 (AINA) -- Two unidentified gunmen riding motorcycles opened fire on guests exiting the Virgin Church, located in Warrag, Giza. The gunmen fired automatic weapons as the guests exited the church after attending a wedding ceremony. According to Reverend Justus, the pastor of the church, one man, one women and one 8 year old girl were killed, and 18 were injured.
Reverend Justus said the gunmen were masked and were able to flee despite traffic congestion.
The Director of Giza Security formed a task force to find the gunmen. The Corniche Road leading to the area was evacuated. The attack is yet to be classified as "criminal" or "terrorist."
A youtube video (Arabic) shows scenes from the church after the attack.