Assyrian Monastery Attacked in Turkey
Posted 2013-08-12 17:10 GMT
Midyat, Turkey (AINA) -- A group of Muslims attacked the staff of the Saint Abraham monastery on Sunday, August 11 in the city of Midyat in the south eastern part of Turkey. The attack started when the staff explained to the group that visiting hours had ended for the day. The Muslims then started to threaten and curse the Assyrians. According to a witness who wishes to remain anonymous for fear of reprisal, the Muslims said "We are PKK and we own this land, obey us or you will be sorry."
PKK is the Partiya Karkerên Kurdistan, the Kurdistan's Workers Party.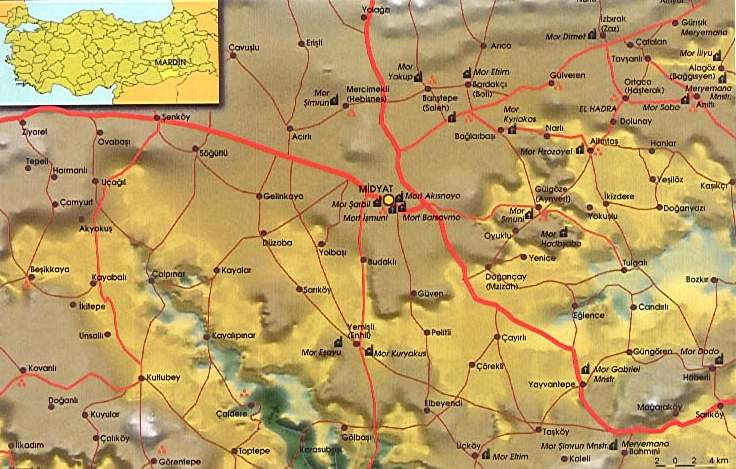 A fistfight ensued as the Assyrians refused to let the visitors enter the monastery. When police arrived they confronted the Assyrians with pepper spray and left the attackers untouched.
The circumstances of the attack are odd, as the Muslim men had their women and children waiting nearby in their cars, who had non Turkish number plates. It is not yet known who they are or their motive for the attack on a religious institution.
"The monastery was attacked two months before this incident by young Kurds from the town of Batman, but we decided not to go public about it, this time we decided it's enough," said an Assyrian from the monastery.
Adding to the dilemma of the dwindling Assyrian community in southeast Turkey is the feeling that the authorities are ignoring such attacks against Assyrians and their institutions.
"We gave the police the footage from the surveillance camera from the previous attack and now it's gone and no one was punished," said a member of the monastery. "They promised us to put guards here but we don't see any and when they (the police) came yesterday they attacked us with pepper spray instead of the attackers. Certainly all this cannot be merely coincidences."