Why is Turkey Building a Tent City for Syrian Christians?
By Nuri Kino
Posted 2013-05-11 00:54 GMT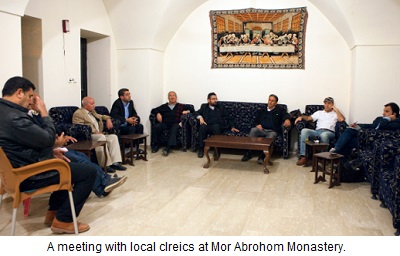 Hundreds of thousands of refugees fleeing the violence in Syria live in camps just inside Turkey. So the April 10 news item from Reuters, announcing the creation of two more camps in Turkish town of Midyat, just beyond Syria's northeastern border, didn't seem like much. But something caught my eye: A camp specifically for Syrian Christians? This was new. Of all the Syrian refugees in Turkey, only a few hundred are Christian. Now they need a camp? I'm calling clergy and others in Midyat. They can't agree about the number of refugees it is supposed to shelter. One is saying 10,000 Christians, another 1,000. Reuters says 2,500. Nowhere in the Islamic world has a refugee camp for the Christians of one country been built across the border in a neighbouring country. Now Turkey is building a camp that will hold between 3 and 30 times the number of Syrian Christians currently taking refuge in the country. Why? Why is Turkey creating a small city to handle a flood of Syrian Christians? The news reports -- what few there were -- didn't say. The only way to get answers is to go to Midyat.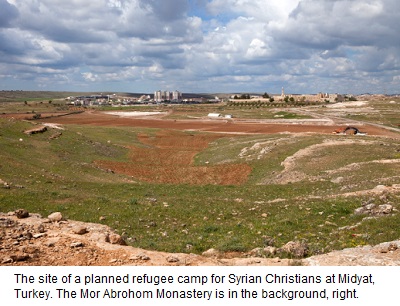 "We'll be on the same plane, great!" A dentist, previously deeply involved in the Assyrian movement, interrupts me as I am taking notes. He is also on his way to Midyat. He is behind many of the new buildings in southeastern Turkey and has of course heard about the camp. "It was Syriac Orthodox leaders who requested the establishment of a camp; tourist season is about to start and they want to empty the monasteries of refugees. Otherwise, they may lose donations from visitors, from Sweden, for example." So, the dentist believes it is about money. "What they hadn't counted on was that the Turkish government would take the opportunity to build a Muslim camp next to the Christian one. Christian leaders were shocked -- but too late, the construction was already underway." On the flight from Ankara to Mardin, a town about 70 kilometres west of Midyat, I'm sitting next to the well-known columnist Yavuz Donat of the Turkish daily Sabah. Together with the Turkish Minister of the Interior, Muamer G
Nuri Kino, of Assyrian (Syriac Orthodox) background, is an award-winning TV/radio journalist now living in Sweden. In Jan, 2013 he wrote a report "Between the wire" in which he did 100+ interviews with Syria's minority Christian community. He is co-author of the independently published political thriller "The Line in the Sand."