Turkish President: Assyrians Important Part of Turkey
Posted 2013-03-02 06:47 GMT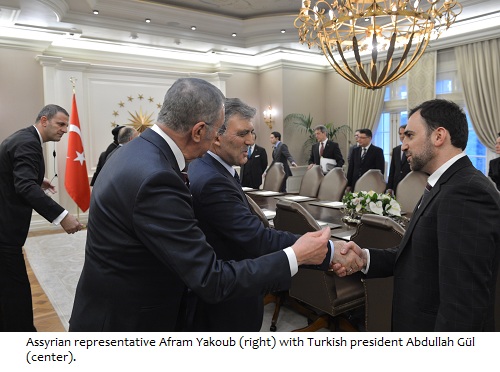 Ankara, Turkey (AINA) -- "Assyrians are an important part of Turkey and their roots go back thousands of years on these lands," said the Turkish president Abdullah Gül during a meeting with Assyrian organizations on February 18th in the presidential palace in Ankara.
The president went on to say that "wrongs have been made," in what is interpreted as a vague reference to the Turkish genocide of Assyrians in World War One. Gül also emphasized that his country is in a process of transformation to have a society more open and keen on dialogue.
The Assyrian delegation was headed by Mr Afram Yakoub, president of the Assyrian Federation of Sweden and head of the Assyrian delegation in Ankara. Mr. Yakoub said "As Assyrian organizations we have and continue to speak up against your country for the injustices we suffer in Turkey. We welcome the positive transformations taking place in your country, but in order for us to change our approach towards Turkey there must first be concrete results on Assyrian issues."
Also present during the meeting was Assyrian Orthodox bishop Yusuf Cetin from Istanbul.