Egyptian Christian Girl, 13, Abducted By Muslims
By Mary Abdelmassih
Posted 2013-02-03 00:53 GMT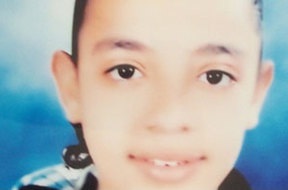 (AINA) -- On December 23, 2012, 13-year-old Agape Essam Girgis from the village of Nahda, el-Ameriya, near Alexandria, went to school as usual. Failing to return home, the family knew that she went out of school accompanied by the Muslim social worker Heba and two teachers, one of the them a Salafist. She stayed missing for 9 days during which the family and sympathizers organized a sit-in in front of the renowned Alexandria Library. The Coptic Church in Alexandria also organized a conference on December 30 on the abduction of Coptic girls, with focus on Agape, which was attended by journalists and the public.
On December 31 state security contacted Bishop Pachomios and told him that they have the kidnapped girl. She was handed over to her family and the church priest where she stayed with his family for some time due to the terrible ordeal she experienced during her abduction.
Bishop Pachomios said in an aired interview with Al Balad TV that what happened to Agape is "heart-breaking." He said that she went in a taxi with her school's social worker Heba and two men, and that she was drugged and awakened to find herself in a secluded place with an elderly woman. He said that after she returned home he spoke to her and she said that the Salafists tried to convert her to Islam.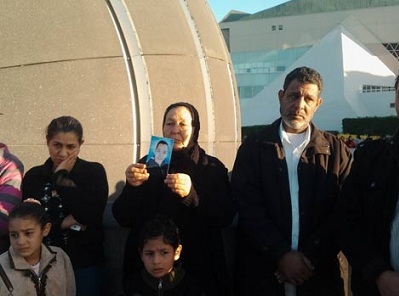 Activist Ramy Attia Zakaria, of the April 6 Liberal Movement in Alexandria, interviewed Agape upon her return and said it is now confirmed that her Muslim social worker Heba was behind the abduction. "Agape left school with her and two teachers. The girl was drugged in the car to wake up in a secluded house with two sheikhs and an elderly woman," Ramy said. He added that Agape stayed there for about eight days until three sheikhs came and spoke with one of the sheikhs she was staying with, telling him that Agape has to returned to her family as they are making demonstrations for her return. Agape said that during her stay with the Salafis sheikhs they tried to make her convert to Islam by saying the "Islamic Two Faith Confessions" but she refused. They forced her to wear the full veil and took photos of her in this dress. Agape said that she was beaten two or three times when she refused to convert to Islam.
After her release she was taken to el-Ameriya police station where she was told to say that "she has left home and went to el-Ameriya, where she found a sheikh and she told him that she wants to convert to Islam," continued Ramy. When her family received her from the police station, her father, who works as a tailor, said they do not wish to accuse anyone in this case as he was pleased to get his daughter back. "Besides I have a younger daughter and I fear for her safety" said her father. Agape's father and their church priest decided that she will not go back to school. Activist Ramy said that most of the Coptic inhabitants of Alexandria are refusing to send daughters older than 9 to school. He accused the Salafist Sheikh Sherif el-Hawary in el-Ameriya of being behind all abductions of Coptic girls in Alexandria and surrounding areas. "When a girl is abducted we go and get her from this sheikh," said Ramy.
"From the beginning of the Egyptian Revolution on January 25, 2011 until January 26, 2013, over 500 girls have been abducted," says Ebram Louis, founder of the Coptic non-governmental organization Association of Victims of Abduction and Enforced Disappearance (AVAED), which handles cases of abducted Coptic minors. Louis blamed the interior ministry for all the disappearances of Coptic minors, saying the ministry colludes with the Muslims. "There is hardly a day which passes by without a Coptic girl disappearing."
According to Louis it is Salafists sheikhs who are behind nearly all abduction cases, especially in Alexandria (AINA 7-13-2011) and Mersa Matrouh. "In every Egyptian province there is a Salafist association which handles the kidnapping of Coptic girls. They have homes everywhere where they keep them." He added that "if we inform the police where the kidnapped girl is being kept, they inform the Salafists, who then move her away to another home and then we lose all trace of her."
Attorney Said Fayez, who also works for AVAED, said the reason for the escalation of cases of adduction and forced Islamization of girls since the 2011 Revolution is that before the ousting of the Mubarak regime the then so-called State Security was carrying out these abductions for political reasons, and the Salafists at the time were doing the kidnapping on their behalf. "After the Revolution and with the dissolving of the State Security, it is the Salafists now that are abducting the girls." Fayez said that whenever a girls goes missing the new central security directs us to ask certain Salafist sheikhs on her whereabouts, depending on the area where the kidnapping took place. "We have observed that the age of the abducted girls is growing younger -- 13, 14 years old. A girl disappears until she is 18 years old, which is the legal age for marriage and conversion of religion." He said that they were directed by security to go to the Salafist leader of the area, Sheikh Sherif el-Howary. Attorney Fayez confirmed that this is an organized operation which includes Salafist leaders, parliamentarians and the police.