Assyrian Delegation Meets With EU Ambassador in Lebanon
Posted 2012-12-01 00:31 GMT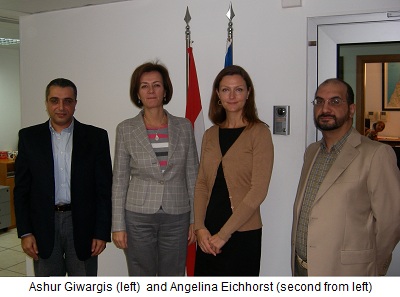 Beirut (AINA) -- A meeting was held on Wednesday, November 28, at the headquarters of the European Union Embassy in Beirut, between representatives of the EU Embassy and a delegation from the Assyria Patriotic Movement.
The EU Embassy was represented by its Ambassador in Lebanon, Mrs. Angelina Eichhorst and the EU Political Affairs Advisor Mrs. Rina Rasmussen, while the APM was represented by its Chairman Mr. Ashur Giwargis, and Mr. Raphael Kopali Bidawid, member of the administrative and public relations committee.
The following points were discussed:
The situation of the Assyrians in Iraq, the policies of demographic change, and the quiet genocide against the Assyrians in Iraq, and the need for protection under international laws.
Emigration of Assyrians from their ancestral lands in the Middle East.
European support for maintaining the security of the Assyrians in their ancestral lands.
The situation of the Assyrians in Syria and the role of international organizations in securing the Assyrians in Syria, particularly in the Hassaka province.
The genocide which was committed against the Assyrian nation by the Turks during the years of the World War I.
After the presentation of news reports and documents on these points, the Assyrian delegates explained the importance of the role of world public opinion regarding the international protection of the Assyrians until the establishment of an Assyrian region within a unified Iraq, and in particular the European role, whereby Mr. Giwargis reviewed in this regard a summary of a series of his meetings alongside other Assyrians with the European Commission officials in Brussels in January, 2012.
Mrs. Eichhorst expressed the intention of her mission to support the Assyria Patriotic Movement. She demonstrated her understanding of the Assyrians' suffering in Iraq as well as in Syria during recent events, and the importance of raising these issues at both the European and International levels.
The two parties agreed to further meetings in order to further discuss issues raised in meeting.