Assyrian Activist Speaks in Israel on the Plight of Assyrians in Iraq
Posted 2012-11-16 00:50 GMT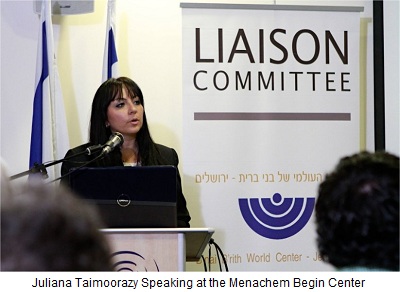 (AINA) -- Juliana Taimoorazy, founder and president of the Iraqi Christian Relief Council, was invited to speak in Israel on behalf of the persecuted Assyrian Christians of Iraq. The invitation was extended by B'nai B'rith World Center and by the Ecumenical Theological Research Fraternity in Israel. On November 7th, Taimoorazy spoke to American and European church leaders, informing the audience of the crimes committed against her nation. On November 8th, she addressed a large and predominantly Jewish audience at the Meacham Begin Conference Center. Speaking for over 30 minutes, Taimoorazy offered in depth information on the ethno-religious cleansing inflicted on her Assyrian (also known as Chaldean and Syriac) nation in Iraq (report).
While speaking of the World War One genocide of Assyrians by the Ottoman Turks, which claimed the lives of 750,000 Assyrians (75%), Taimoorazy showed side by side images of dead Assyrian men and children who were killed between 1914 and 1918, and images of Assyrians killed in Iraqi since 2003. She concluded this part of her speech by saying "While many throughout the world have heard of the Armenian and the Greek genocide, the Assyrian genocide has gone greatly unnoticed. These atrocities continued well into the 21st century. Today the only differences are the names and faces of those who commit these despicable crimes."
In an interview with AINA, Taimoorazy expressed her gratitude for how she was received in Israel and how the Assyrian cause was embraced by the Israelis. "The offering of prayers and assistance was absolutely overwhelming to me. This conference can be the start of a new relationship with the Jewish nation. I was deeply moved by the words of encouragement and the love sent to the persecuted Assyrians".
While in Jerusalem, Taimoorazy was interviewed by Chris Mitchell of Christian Broadcast Network (CBN), where she continued discussing the injustice inflicted on the Assyrian nation.
In the month of October, Taimoorazy took the Assyrian cause to Washington and presented at the Association for the Study of the Middle East and Africa (ASMEA). She was also invited to the Bay Area by the members of the Catholics@Work organization to spread the word about the current situation of the Assyrian nation. Taimoorazy and her group have been presenting the atrocities committed against the Assyrians to non-Assyrians since 2007 throughout the United States and now Israel.