Double Standard in Application of Egyptian Contempt of Religion Law
By Mary Abdelmassih
Posted 2012-01-18 00:30 GMT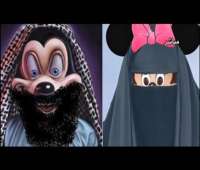 (AINA) -- Anger and frustration have risen among Egypt's Coptic Christians after the recent escalation of court cases against Copts charged with of contempt of Islam. Copts accuse the authorities, including the ruling Supreme Council of Armed Forces (SCAF), of exercising double standards in the application of the "contempt of religion" law. In the last month three cases have been brought against Copts, based on accusations mostly from postings on Facebook or Twitter of cartoons or comments deemed by Islamists as insulting to Islam.
"Copts have received a barrage of insults to their faith and their symbols and have had churches torched and destroyed, and no one has done anything about it," said Dr Naguib Gobrail, head of the Egyptian Union of Human Rights Organizations. "The law of contempt of religion is applied solely to punish the Copts."
The case against billionaire Naguib Sawiris, a Copt, for contempt of religion after tweeting cartoons, was heard on January 14 before a misdemeanor court in Cairo. The case was brought forth by Islamist lawyer Mamdouh Ismail and fourteen other lawyers, who filed a complaint accusing Sawiris of defamation of Islam and deliberately "mocking Islamic symbols and attire."
Sawiris, who is also a top political figure and founder of the liberal Free Egyptians Party, had posted on his twitter account in June 2011 an illustration of Mickey Mouse with a beard and Minnie Mouse wearing a niqab (full face veil); it was accompanied by the comment "Mickey and Minnie after." After the Islamist uproar, he apologized and if it was misunderstood and expressed his full respect for Islam and Muslims. He removed the cartoons, which he had originally copied from Saudi Arabian Internet websites. Islamist organized a boycott his mobile telecommunications network Mobinil, which lost over one million customers.
During the trial one of the Islamist lawyers, Dargham, said that this was the first case in which Islam is insulted in an "Islamic State," described Sawiris as a "criminal" and called for his arrest and prevention from leaving Egypt, which caused a brawl between lawyers from both sides, forcing the judge to adjourn the case to February 11. If convicted, Sawiris could face imprisonment.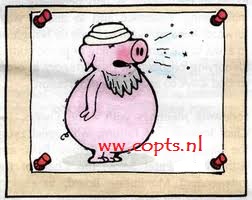 Three week ago Coptic student Gamal Masood (17), from the village of Bahig and Adr in Assuit province, was assaulted by his fellow students after the school social worker had printed and hung on a wall a web page from Facebook with the photo of Gamal and a drawing which Muslims regarded as that of their prophet. Although he denied the charge, violence and protests broke out in three villages. Muslims from the surrounding villages protested for two days. They torched his home, together with four other homes of friends and relatives. To calm them down, the head of security promised them that Gamal and his family would be evicted. While Gamal's investigations were still going on, a meeting was held on December 31 at the Assiut governor's office, attended by representatives from Al-Azhar, Salafists from the area who won the last parliamentary elections, church representatives and the authorities, where it was decided that Gamal, also accused of causing sedition, would be handed over to prosecution, and he and his entire family would be expelled from the county. Moreover, it was decided that the priests in the area had to publish an official apology in all the media. The young student is still detained, and his trial is scheduled for February 7.
Coptic Romany Saeed Saad, from Marouf village, Edfu, in Aswan province, was condemned by Muslim villagers to be expelled from the village and forced to sell his home. He was accused of disrespecting Islam's prophet during a brawl with another Copt during which Romany allegedly cursed a prophet (it is not clear which prophet was referenced). The villagers sent a query to Al-Azhar Fatwa section on January 2, 2012 to seek their opinion. The Fatwa section answered that there was no blame as the quarrel was between two Copts and mentioning the word "prophet" does not mean it was the Prophet Mohamed. The Salafists in the village rejected this opinion and sought a second one, all the while preventing the return of the Romany family to their village. "Until the situation calms down, we had to find a place in Edfu for the Romany family to stay," said Ragab Ahmed Hussein,a member of the popular movement, "as well as a job for him in order to earn a living."
At the end of November 2011 a Cairo court sentenced 23-year-old Copt Ayman Youssef Mansour to three years in prison for expressing opinions on his Facebook page which were considered derogatory to Islam and a threat to national unity. The verdict did not disclose what he said. The authorities tracked him down through his Internet address "after receiving a huge amount of complaints."
the Egyptian Penal Code defines Contempt of Religion as "Whoever exploits religion in order to promote extremist ideologies by word of mouth, in writing or in any other manner, with a view to stirring up sedition, disparaging or holding in contempt any divine religion or its adherents, or endangering national unity, shall be punished with imprisonment for between six months and five years or a fine of at least 500 Egyptian pounds."
According to Dr. Naguib Gobrial, he and other lawyers have filed several complaints to the Attorney General against Muslims who are in contempt of the Christian religion, without any action taken. He said the latest was a communication sent to Field Marshal Tantawi, head of SCAF, against Yasser Borhamy, a religious leader from the Salafi-oriented Nour Party, who wrote in Al Masry Al Youm newspaper on 4/1/2012 that the doctrine of the Christians is "corrupt." Moreover, Borhamy described on the internet site Voice of Salafis all religious edicts that consider Christians as infidels and criminals who should not be greeted, and whose businesses ought to be boycotted, as "excellent" and "strong" fatwas.
Other complaints filed against Muslims:
Muhammad Aslam Abdullah, head of the Islamic Enlightenment Center who described Christianity as evil, that promotes adultery, alcohol consumption and womanizing, and Christians as infidels and polytheists.
Hossam al-Bukhari, spokesman for Support for New Muslims organization, and Sheikh Mohammed Al Zoghbi for incitement to attack the Church of Our Lady in Embaba (AINA 5-8-2011), and surrounding the Coptic Orthodox Cathedral in Cairo with Muslim protesters, and incitement to kill Christians (AINA 4-30-2011).
Mohammed Mursi, the head Muslim Brotherhood Justice Party, accusing him of incitement, slander, damaging the national economy and instigating sedition.
At the end of 2010, several complaints were presented to the Attorney General, without any action taken, against Dr. Selim el Awa, Dr. Mohamed Emara, Dr. Zaghloul El-Naggar and Sheikh Ahmed Abu Islam for describing the Bible as "fake" and "Greek mythology." Emara also published a book entitled "Sectarian Strife: When, how and why? an eye opener," in which he regarded the Christians as non-believers and the blood of the Copts and their wealth as "permissible" for Muslims.
Medhat Kelada, head of the Union of Coptic European Organizations for Human Rights (UCEOHR), criticized the Egyptian government believing that the law on the defamation of religion in Egypt applies to Christians only. "Muslims disrespect and demonize the Christian faith openly in the media while the authorities look the other way."
"Why has the law of contempt of religion not been applied to Salafist Dr. Borhamy," says Kelada, "who issued a Fatwa two weeks ago for Muslims 'not to extend Christmas greeting to Copts' on January 7, 2012 (Coptic Christmas), but was applied to the Copt Ayman Youssef Mansour, who is serving a three-year prison term for expressing anti-Islamic opinions on the web? Why bring a case against Sawiris while Borhamy is left unchecked and is still insulting Christianity and calling Copts non-believers who ought to be ostracized in the media?"