Egyptian Muslims Torch 8 Christian Homes on Rumor of Church Construction
By Mary Abdelmassih
Posted 2011-06-26 01:47 GMT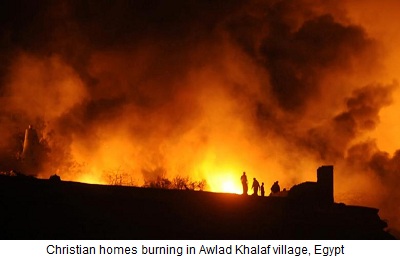 (AINA) -- A mob of nearly 200 Muslims torched eight Christian homes on Saturday morning in the Upper Egyptian village of Awlad Khalaf. The attack was initiated by a rumor that a house which is being built by Wahib Halim Attia will be turned into a church. Two Christians and one Muslim were injured, no fatalities were reported.
Wahib Halim Attia obtained a license to build a house in the village on a 95 square meter plot. The house grew to an area of 350 square meters but was still on agricultural land that he owns. This gave rise to the rumor that he intended to build a church instead.
Father Weesa Azmy, the priest at St. George Church in the neighboring village of Negou Madam East, said that someone went to the City Council in Dar es Salam and told them about the irregularities in the house construction, and Wahib was ordered to remove the excess by June 24. "Instead Wahib carried on with the construction, which angered the Muslims, who decided to play God and take the law into their own hands; they attacked the construction site and other Christian homes."
According to Father Weesa, Muslims broke into the home of Ihab Tamer, who defended himself with a rifle. A Muslim who was there to help Ihab was injured by a bullet in his leg from Tamer's rifle. The matter was explained and resolved with the family of that Muslim.
According to eyewitnesses the Muslims, mostly Salafists and some youngsters, looted and torched eight homes belonging to Wahib Halim Attia and his two brothers, his three cousins and two other Copts, including Ihab Tamer.
The police arrived three hours after the looting and torching had ended.
Father Weesa said Ihab Tamer, who was in hiding after the shooting incident, contacted him and he advised him to give himself up to the police as he was acting in self-defense. "If someone sees people breaking into his home, surely he has to defend his family and himself."
The police told father Weesa, who did not witness the incident himself, that most of the attackers were teenagers between the ages of 10 and 14 years old. This was refuted by eyewitnesses. However, he said "if it is true that there were children and teens, then definitely someone else has sent them." He added he will not attend any reconciliation meetings and the rule of law must be upheld, on the Copt if found guilty and the attackers. Most of the teens and children were arrested by the police but no adults were arrested.
Police and security are now present in Awlad Khalaf village and the 30 Christian homes are being guarded, the Security Chief said tonight on the Egyptian State TV.